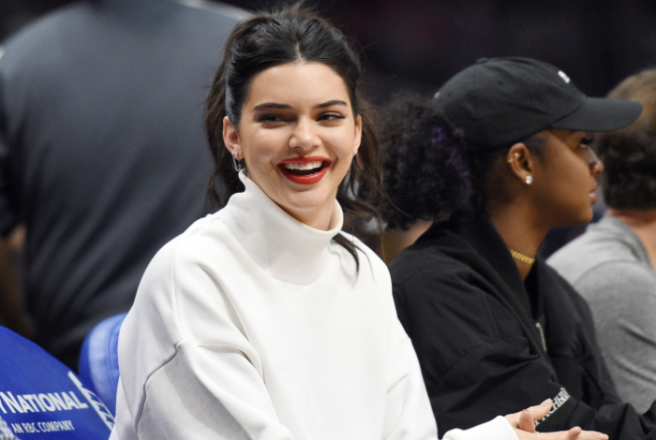 Kendall Jenner has always been mysteriously private about her dating life, despite the fact that her famous family have cameras filming them 24/7 for Keeping Up With The Kardashians.
Most recently, the model was dating NBA player Ben Simmons until May of this year after 12 months of dating.
A meme has now surfaced on the internet mocking her seeming appreciation for basketball players, and it did NOT go down well…
2 out of 5 accurate, thanks https://t.co/I4SUF11sVN

— Kendall (@KendallJenner) July 16, 2019
A Twitter account posted a meme of the "Starting five of NBA players" Kendall was rumoured to have dated, commenting: "This is a playoff team LMAO." Highly mature content altogether.
The image featured Jordan Clarkson from the Cleveland Cavaliers, D'Angelo Russell of Golden State Warriors, Philadelphia 76ers Ben Simmons, LA Lakers' Kyle Kuzma and Detroit Pistons' Blake Griffin.
You might say that the Kardashian-Jenner wasn't here for the joke, clapping back; "2 out of 5 accurate, thanks". Go off, sis.
The Victoria's Secret model was referring to Ben Simmons and Blake Griffin, who she was previously seen with. Kendall rarely discloses her relationships in public, but she didn't let this joke pass her by.
Kendall allegedly dated Blake back in 2017, but the distance caused the relationship to fizzle out when he moved to the Detroit Pistons. She confirmed her romance with Ben Simmons on the Ellen DeGeneres show;
"So obviously you're dating this guy who's on the 76ers. How long have you been dating him?", Ellen asked. Kendall replied: "For a bit now."
The pair split in May, with a source close to People claiming that the relationship had "ran it's course. She's spending time with her friends and back to being in fun mode."
Kendall opened up about why she protects her love life to Vogue Australia in May:
"For me, a lot of things are very special and very sacred, like my friends and relationships, and I personally think that bringing things into the public makes everything so much messier.
She added; "I'm very young and right now I feel like relationships aren't always super-certain and I don't want to bring too much attention to something if you don't really know long-term," she continued.
"A relationship is only meant to be between two people, and the second you make it the world's business is when it starts messing with the two people mentally"
The reality TV star takes privacy seriously; "Like once everyone is let in, you're letting all these opinions into your relationships, and I don't think that's fair."
Feature image; Instagram/@jennerximages