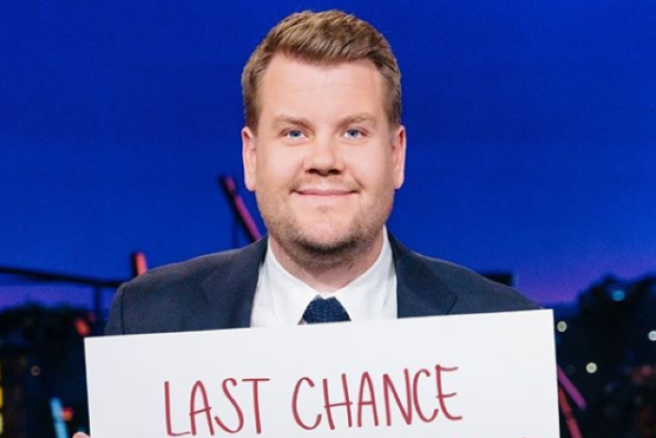 Get ready to sing, Ariana Grande is popping on her seat belt to take part in James Corden's famous sing-along.
The TV personality leaked a printed copy of the lyrics on Twitter to hint at Ariana's appearance.
Brushing up on hitting those high notes, James captioned the picture, "learning these…"'
Learning these… pic.twitter.com/TNN2WCRvs0

— James Corden (@JKCorden) August 7, 2018
'No Tears Left to Cry' and 'God is a Woman' lyrics are seen in his snap and we are living for James' take on the smash hits.
In response Ariana retweeted the host and joked by saying: "Sick what for."
James' tweet may have come as a surprise to The Late Late Show which the segment is on.
The official Instagram teased the host by reposting his picture, along with "that time James leaked the next #carpoolkaraoke."
Ariana will join the likes of Christina Aguilera, Adele, Bruno Mars, Sir Elton John and Justin Bieber.
The celebrities have all had their famous tunes revamped into a more intimate karaoke style with James.
The segment is now a staple in the programme after its 2015 debut.
The date of Ariana's appearance has not been released, but speculation indicates it will be this month.
Her involvement in the programme is thought to come in conjunction with the launch of her album, Sweetener.
Get pumped as her new music drops next week.
This album is a huge moment for the singer as it's the first time she has released a new album since the Manchester Bombings.
The 25-year-old issued a series of tweets expressing how much this means to her with just 10 days to go until it goes public.
"F***. just ran thru the whole album w my band (and singers hehe) for the first time and i'm … so f***ing emo and grateful. wanna hug u all immediately," she said.
bein able to sing this music / this whole journey w y'all is some of the most magical, special shit in the universe

— Ariana Grande (@ArianaGrande) August 7, 2018
"I am eternally f**king grateful and will never take this sh*t for granted oh my god that was so insane and beautiful and exciting music is so important am I ok," she tweeted.
We cannot wait to sing our hearts out to the new tunes.
And, of course we are looking forward to the raw versions of our fav Ariana Grande beats.
Over the last year, Ariana has been honest and open about how hard the bombings have impacted her personal and professional life.
She even got a tattoo of the worker bee in honour of the 22 people who tragically lost their lives at her 2017 concert.