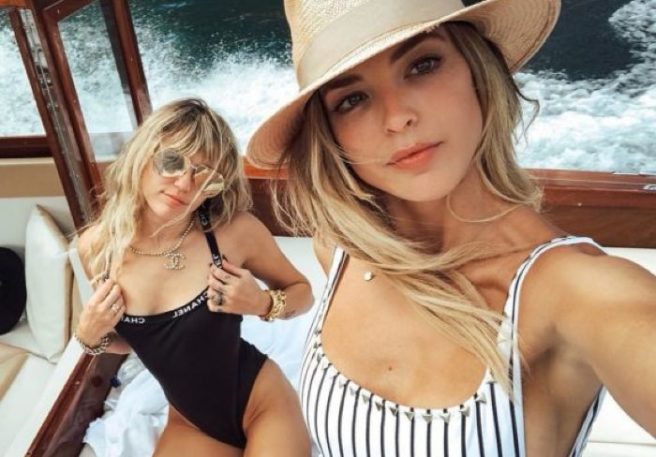 Kaitlynn Carter has opened up about her relationship with Miley Cyrus in an essay for Elle. The 31-year-old admitted that being in love with Miley felt 'right' but short-lived.
She explained that she is still not ready to label her sexuality, but stressed that what she had with Miley was more than a summer fling.
"I began to spend a lot of time traveling on my own or with friends, quietly mourning what I knew in my heart would soon be the end of my marriage," Kaitlynn began.
"Shortly thereafter, as my friend and I spent that August travelling through Europe together and trying to move past our respective break-ups, my first and only romance with a woman was born," she shared.
Kaitlynn revealed that she fell as hard for Miley as she did for past partners.
"It was that same familiar force of nature; I didn't have to think about a thing or overanalyze. It just happened and it felt exactly right. Reflecting back on our three-year friendship, I realized I'd always been drawn to her in a way I wasn't with other friends, but until that trip it had never crossed my mind to think of her in a romantic sense," she shared.
Despite their breakup, Kaitlynn said she will forever be thankful for what she shared with Miley.
"I'll remain eternally grateful to my most recent relationship for opening my eyes to this unexplored part of myself, and for inspiring a new level of self-discovery and wonder at all the possibilities of life.
"I've been forced to get to know myself in a far deeper way than ever before, and not just in terms of my sexual preferences. I've also been forced to reckon with who I am as a person," she confessed.
Kaitlynn stressed that their relationship taught her so much more than she ever expected, "This was a profound journey of self-discovery. For the first time, I listened to myself, forgot about the "norm", and lived. I hope that everyone, when given the chance, takes the time to understand who exactly their most authentic selves are, untethered from what we may have been taught to believe.
"Remain curious. Know that there are many layers within you—and they just might be the most invaluable ones," she concluded.
You can read Kaitlynn's full essay here.