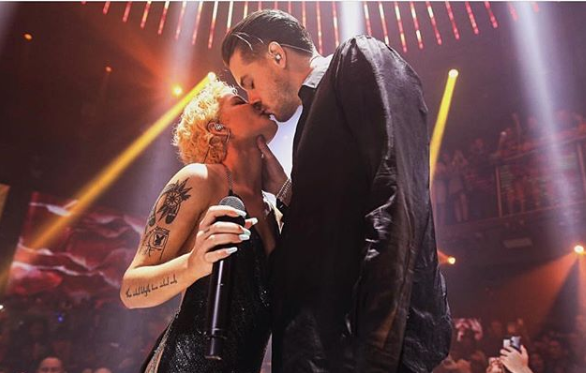 Halsey and G-Eazy have reportedly called time again on their turbulent relationship on Tuesday night. This couple are serving us constant drama, we're fully 'nable.
This is the second time they've parted ways, following a brief reunion in August which clearly didn't heal any of their original issues.
Despite a seemingly loved-up Italian holiday for the 24-year-old singer's birthday (which at the time she called her 'best birthday ever') the couple's relationship has crumbled in the mean time.
The twosome no longer follow each other on social media, but G-Eazy noticeably didn't delete his birthday message to his former love:
"Happy birthday to this one. I love you so so so much and I always will," G-Eazy penned.
"I myself, along with millions and millions of other people appreciate you more than you'll ever know. You're the brightest star in the sky. So grateful to get to travel thru life with you, so happy to call you my queen. Happy birthday baby."
In the first in a series of mysterious tweets, Halsey wrote that "happiness is not a replacement for misery. it's an addition. pain will always be there. but that's okay."
reminder to self: happiness is not a replacement for misery. it's an addition. pain will always be there. but that's okay. u allow happiness to join as another option. so when the time comes, it's there waiting, existing; a possibility for when you're ready to choose.

— h (@halsey) October 24, 2018
She continued her personal contemplation by saying that happiness and pain exist together, and happiness arrives "to assist u in carrying the weight of the pain."
She added, "now remember that u dummy," which seems to imply that she's going through a pretty painful period right now.
In her last tweet, she quotes lyrics from her new song 'Without Me', which seem pretty appropriate at the moment considering her romantic situation…
you don't have to say
just what you did.
i already know.
i had to go and find out from them.

— h (@halsey) October 24, 2018
Most fans are presuming the break-up is because of G-Eazy's partying ways, after last weekend he seemed more than comfortable surrounded by women at a pre-Halloween bash.
"It's over again for now," revealed an insider. "He was partying over the weekend and girls were all over him. He didn't care who saw."
She was spotted this morning on her coffee run, looking like Pink's protégé of not giving a f*ck.
No boyfriend + no shirt = no problem.
Meanwhile, G-Eazy sidled up to Drake's 90's themed Halloween party looking very much like a lone wolf.
We hope Halsey can hop back on the love train soon, you go gal.