Throwback! 9 times last night's AMAs show was ALL about the 90s
It might be 2015, but we were feeling a serious 90s vibe as we watched last night's American Music Awards.
From Kylie Jenner's leather n' chains cut-out dress to the very presence of J-Lo and P Diddy on the same stage, the awards show was completely jam-packed with nostalgia from our very favourite decade.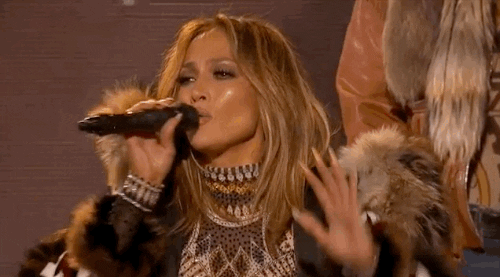 By the time Alanis Morisette stepped out to duet on You Oughta Know with Demi Lovato, we were about ready to root out our old Spice Girls posters and start blaring Jackie's Army in preparation for Italia 90.
If you were watching last night, you know doubt spotted some of these oh-so 90s elements:
1. Kylie Jenner's red carpet look
She raided Christina Aguilera's 1999 wardrobe.
2. Gigi Hadid's all-white cut-out dress
The thigh slit, the halter neck, the criss-cross detailing – Ginger Spice eat your heart out.
3. J-Lo shaking her booty just as we remembered
Jennifer Lopez is more about singing and producing these days, but last night she (and her curves) took a trip down memory lane.
All hail Queen J-Lo.
BOW DOWN.
4. P-Diddy giving a shout-out to the woman herself, making us wish they were still together
All the feels. And look at them there, having fun like old times at the after-party:
5. Jenny McCarthy's thigh high platform boots
6. And, of course, Ariana Grande in that eternal 90s favourite, the white platform heel
Again, something we reckon Ginger Spice would have killed for.
7. US singer Z LaLa harking back to The Little Mermaid with her octopus costume
8. Alicia Silverstone and Jeremy Sisto reliving their Clueless days on stage
We prefer to think of them like this:
9. And finally, Alanis Morisette and Demi Lovato giving it socks to You Oughta Know
*shrieks*