This new Dublin bar is absolutely PERFECT for after-work drinks
Lads, there's actually nothing better than finding a gorge new watering hole – and last week we hit the JACKPOT!
Kennedy's Pub, dating back to the 1850's recently completed their stun new of their new cocktail bar 'Kennedy's Station', which is located downstairs within the historic Dublin pub and former workplace of Oscar Wilde.
We went for a little gawk last week, and we were far from disappointed.
The new owners of the Dublin 2 venue have pushed the boundaries by launching a cocktail bar within what was once viewed as a traditional Dublin publican, steeped in history.
The Mahon family, who own the 'Pig 'n' Whistle' group of 12 bars and restaurants in New York, bought the venue in 2016 and realised the potential to introduce a cocktail bar downstairs.
Who doesn't LOVE a cheeky espresso martini of a Thursday?
The snazzy new cocktail bar is located within a bustling office area in central Dublin 2, nestled between Grand Canal and Grafton St.
Brothers Rob and John Mahon have taken the lead on the venue renovations, which also saw the upstairs pub get a revamp, spending a small fortune upgrading both the pub upstairs and new downstairs cocktail bar.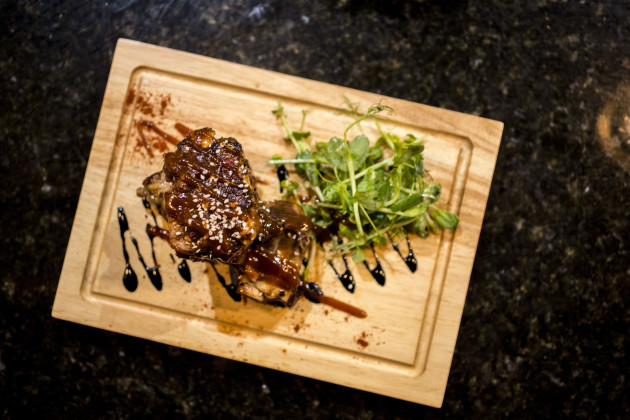 The upstairs pub has become synonymous with Irish rugby and is now one of the most popular destinations to enjoy live matches in Dublin (COYBIG, and all that jazz). The pub boasts craft beers and delicious gastro-pub food, with a distinctive menu offered by executive Head Chef Darren Cooney, has been introduced to both the pub upstairs and the bar downstairs.
Speaking about the venue revamp, Rob Mahon, Managing partner of the 'Pig 'n' Whistle group, said, "We are so happy with how renovation has worked out, keeping the more traditional rugby pub upstairs and introducing a modern cocktail bar downstairs. We are surrounded by a lot of large office buildings here and we realised a really good cocktail offering was missing from the area."
"Along with the bar investment, we have brought in some really talented mixologists, specialising in some Dubliner cocktail favourites, including Whiskey Sours, Mojitos and Espresso Martinis, all for only €10 each. Kennedy's Pub is so historic however, that we knew we needed to keep the traditional rugby pub upstairs, and just give it a facelift and some TLC".
Gals, get yourselves to Kennedys glitzy new cocktail bar – you'll be glad you did.