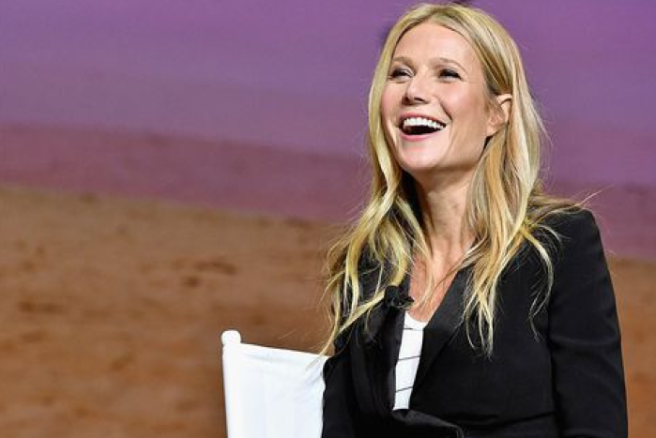 Gwyneth Paltrow is releasing a brand new 'dirty weekend away sex kit' on her website, Goop, and it is worth a damn FORTUNE.
The set includes condoms, vegan lubricant, massage oil, sex toys and all the sexual health information you could possibly need.
Oh yeah, it also contains a 24-carat-gold sex toy. As you do.
She recently married 47-year-old TV producer Brad Falchuk, and has commented before on her 'great and satisfying' sex life. Brag much?
The website's first 'sex Issue' was published in May 2016, which included a kinky toy buying guide, and advise on sexual preferences.
She has now put together the dirty weekend away kit, with a massive spending allotment, but it's the thought that counts, right?
The Balmyard Beauty Romantic Call Body Oil boasts antioxidant coconut, shea, sweet almond, and hibiscus-seed oils is on the list, and works hard to leave your skin soft and glowy.
It's a shame it's priced at $82…
Gwyneth Paltrow's sex advice article recommends a $3500 dildo made of gold. pic.twitter.com/it5AbBIQPt

— nicole villela (@itchybrained) November 25, 2018
Imagine being able to afford a SOLID GOLD dildo worth $3500. Just imagine.
She includes the Betony Vernon Marabou Pleasure Puff Ring, with intricate marabou feathers, on her list. The item is worth a jaw-dropping $673.
The Maude Rise Condoms are 100% natural latex, and is the most affordable item in the kit, costing just $12. A bargain…
The vegan Unbound Jelly lubricant is made from 95% organic ingredients and is also vanilla-scented for good measure.
Last but by all means not least, the Lelo Olga sex toy is comprised of 24-carat gold and warms to your body temperature internally.
Gwyneth is extremely open about her sex life, and recently discussed the importance of sexual health while speaking to Glamour
The actress wed her second husband in a beautiful ceremony back in September commented on emphasising women's sexual lives through Goop.
"Gwyneth Paltrow Just Gave 3 Incredibly Great Tips For Anal Sex"
Goop, a website curated by the actress, has published a full guide to the backdoor position https://t.co/wcKsUWkXHS
twitter: @MensHealthMag fb: @MensHealth ig: @MensHealthMag

— Rachel Starr (@RachelStarrxxx) June 18, 2018
We don't doubt that her and Brad are enjoying married life, if her sex kit is anything to go by. We commend her great attitude to banishing shame from sex. All women deserve great sexual health.
The website says the sundries are a must-have for a 'Romantic (and Sexy) Weekend', stating; "These five clean, nontoxic essentials are virtually guaranteed to ignite and/or reenergise sexual vibes." Spicy, Gwyneth, very spicy.
Paltrow has attributed her newfound glow and warmth to her new beau.