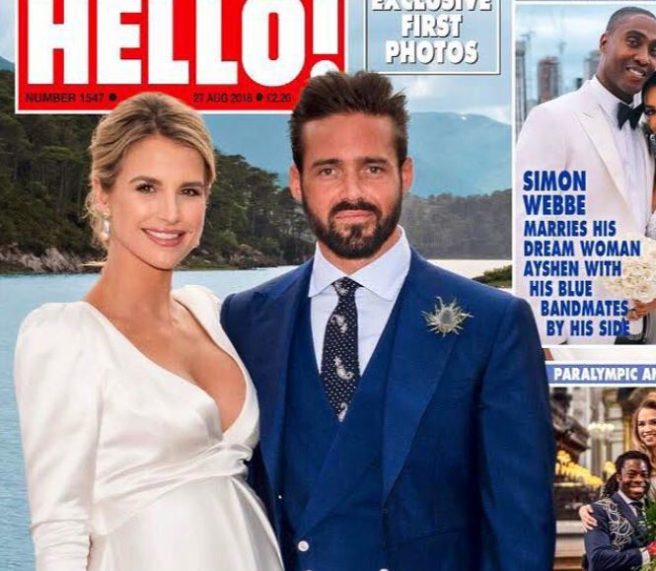 Vogue Williams has finally given us a look at her romantic nuptials to Spencer Matthews in this week's Hello! magazine.
The couple tied the knot in a stunning ceremony in Scotland two moths ago and have now revealed exactly what happened on their big day.
The pair, who have been together since the early 2017, exchanged vows on the banks of the loch on Spenny's family's 30,000-acre estate in June.
The simple and intimate outdoor ceremony was attended by Spencer's brother James and his wife Pippa Middleton.
Spencer dished to the magazine, "it has gone down by many as the best wedding they've ever been to.''
''It was a family affair in the middle of nowhere and it felt very secluded. We were surrounded by the people we love."
The 32-year-old bride, who was six months pregnant on the day, dressed her baby bump beautifully in an exquisite Paul Costello gown.
Spencer's half-sister Nina Mackie, his brother-in-law James Middleton, and Vogue's sister Amber, who was also maid of honour all gave readings during the ceremony.
"At the time it was so wonderful but almost dreamlike. It took a little while to sink in, but I certainly feel married, settled, and happy," said 30-year-old Spencer.
Congratulations to you both, so pleased you found your happy ever after and you look stunning as always Vogue

— Marisa (@marisa_deborah) August 19, 2018
"Everything has fallen into place. As we've said before we are best friends, we love being together, so it does feel just perfect. We're delighted. I can't imagine life without Vogue at this point. People say, what's changed? What's different? But it's just part of growing up, meeting your soul mate and moving on with life."
The couple are gearing up to welcome their first child in a few weeks.
Spencer has previously gushed that he and Vogue want a brood of four.
"Vogue and I want four kids so I think it's nice for the eldest to be a boy, especially if our next is a girl. I like the idea of my daughter having an older brother to look out for her, especially if we still live in London and she wants someone to party with," he said.
Congrats guys – we think Vogue made a beautiful bride.