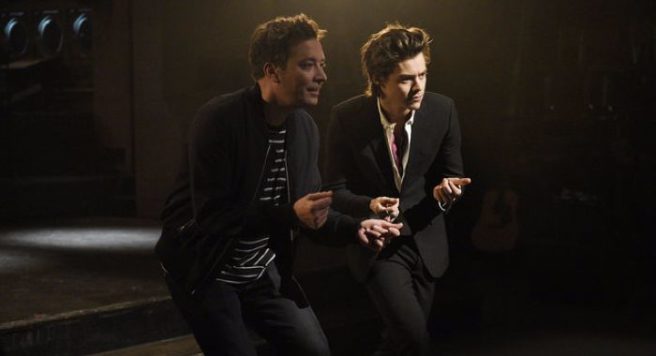 Jokes, a Mick jagger impression and his first solo performance.
Yep, it safe to say Harry Styles killed it on Saturday Night Live last night.
Harry Styles' performance of 'Ever Since New York' on SNL is a blessing pic.twitter.com/l4wkMaYD7a

— F (@postbestfshn) April 16, 2017
It was the first time any of Harry's fans saw him perform since he went on hiatus with One Direction, and looking at these tweets, he certainly didn't disappoint.
It seems like people are more in love with Harry now than ever before:
Matchmaker: "What characteristics are you looking for in a partner?"

Me: "Harry Styles on #SNL."

— Madeline Hill (@mad_hill) April 16, 2017
Wait, but isn't @Harry_Styles always Mick Jagger? #SNL

— Kristen Harding (@KiwiHarding) April 16, 2017
Harry Styles was very good on SNL, & also seems like the kind of person to text back "xx" 48 hrs later when u were expecting something more

— Josh Duboff (@JDuboff) April 16, 2017
harry styles owns me #snl

— Melissa Rosenberg (@melroseee) April 16, 2017
doctor: how'd you lose your virginity?

me: Harry Styles on SNL, April 15 2017

— astrid. (@niallbonjovi) April 16, 2017
I've currently got five conversations going on about Harry Styles SNL performances

— CJ Tigerlily (@tigerlilyblog) April 16, 2017
My ass fired up enough to wake up at 5am to see Harry Styles live on SNL but I can't even do the same for assignments and working out

— Faith Ayanda (@Daria_Faith) April 16, 2017
Who needs Coachella when you have Harry Styles on SNL to watch for the next 72 hours. Not me. #HarryStyles #SNL #coachella

— Aimeeeeeeee (@Aimeeeee_B) April 16, 2017
HAPPY EASTER SUNDAY HARRY STYLES ON SNL WAS INCREDIBLE

— Charlotte (@charlottepavitt) April 16, 2017