'He wanted to die:' George's partner blames suicide tweets on a hacker
Some fans said his decision to speak publicly about the moment he found George Michael dead was, so soon after his passing, in bad taste.
And today, Fadi Fawez courted yet more controversy – stating in an incredible series of tweets that the 53-year-old pop superstar was suicidal and had made attempts to take his own life before.
The tweets have now been deleted and the account shut.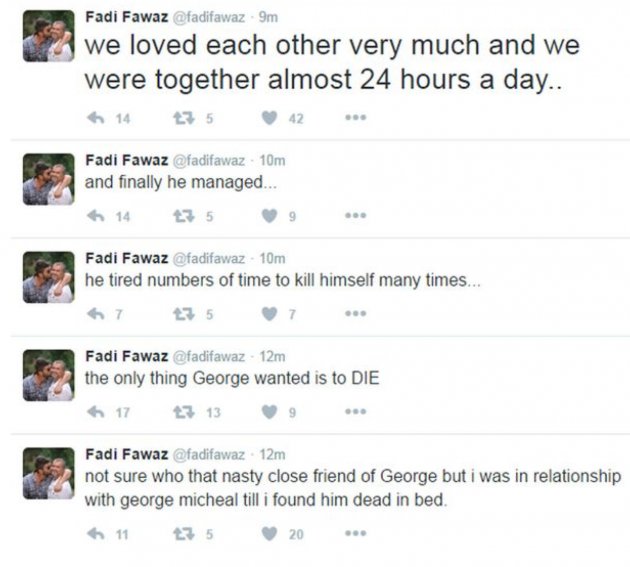 However, the London-based hairdresser, who had been in a relationship with George since 2012, is adamant that he is the victim of a hacker.
Fadi told Mirror Online: "I am shocked with what's going on with the Twitter thing. My Twitter account has been hacked and closed."
He added: "It's a bit scary to be honest. I did not send those tweets. I woke up at 11.30am to the news. I am not going to worry about these things."

The shocking tweets had earlier read: "The only thing George wanted is to die.
"He tried numbers of times to kill himself many times… and finally he managed.
"We loved each other very much and were together almost 24 hours a day.
Less than 24 hours after George Michael's Christmas Day passing, Mr Fawez tweeted that he had found him dead in his bed.
The cause of his death has been cited by police as heart failure, although further toxicology testing is now being carried out.