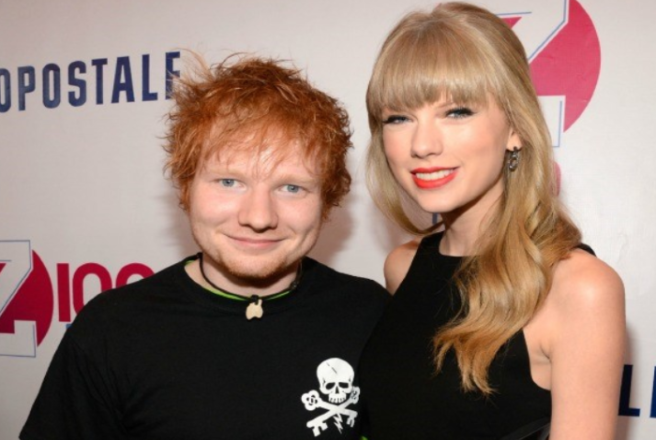 We've been eagerly anticipating Ed Sheeran's entry to the dramatic feud of Taylor Swift versus Scooter Braun.
For anyone unaware of the insane situation, Taylor Swift released a scathing indictment of the music manager after he acquired her life's work (six multi-platinum albums) in a $300 million deal.
She was left feeling "sad" and "grossed out" after a man who has allegedly been "manipulating and bullying" her for years gained control over her years of hard work.
Taylor's fans were quick to point out that numerous powerful men in the music industry were keeping a firm silence on the whole drama, while women took sides with Scooter or Taylor.
Sia, Demi Lovato and Yael showed support for Scooter, while Halsey, Cara Delevigne and Miley Cyrus showed their team flags were for Taylor.
One friend of Taylor whose silence has spoken volumes was Ed Sheeran. Shawn Mendes also was an opener for the singer, so his silence is noticeable.
Ed Sheeran and Shawn Mendes were both opening acts for Taylor Swift's tours and it's no doubt that she give them so much support when they were small artists and needed it but yet they both remain silent when she needs their support. Trash.

— (@shookswiftie) July 1, 2019
Her fans are furious at men in Taylor's life who haven't publicly supported her, given how large and influential their platforms are.
However, Ed Sheeran has now responded to the spamming of his Instagram by confirming that he has been talking directly to the You Need To Calm Down singer behind the scenes.
"I've been speaking directly to her, like I always do," Ed replied to a fan, @martinamalcotti_ on Instagram.
Time will tell whether or not he will publicly express his views on the matter, but history shows he tries to stay out of any Hollywood music industry drama.
The pair collaborated on numerous projects together, such as the adorable Everything Has Changed video featuring mini Taylor and Ed.
Both artists have been friends for years, so we're assuming he's supporting her in private. We certainly hope he is, anyway.
Feature image: Getty Images/Instagram/@lightmeup.swift13