Delicious, cute, green and boozy: what more can we ask from this adorable shamrock shake?
Before things get serious with the gin and tonic and the pints, this sweet cocktail sounds like the best way to warm up for Saint Patrick's Day!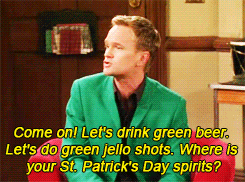 Boozy shamrock shake
Ingredients
500ml vanilla ice cream
200ml milk
60ml Baileys
Green food colouring
100g ice
For the topping
Whipping cream
Shamrock sprinkles
Method
Place all the ingredients in a blender and pulse until smooth.
Place in a milkshake glass and top with whipped cream and shamrock sprinkles.