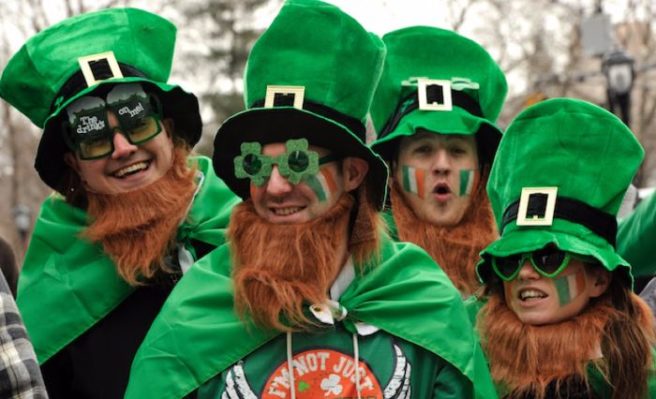 If you're not interested in getting locked this Friday, you may feel like you have no options when it comes to fun things to do on Paddy's Day.
However, we've thought of quite a few options for the teetotallers who walk among us.
10. An online shopping spree
Black Friday and New Years are usually when the sales commence, but one online store is doing n offer for Saint Patrick's Day.
ASOS is offering customers 20 per cent off for the day that's in it, with the code PATS20.
9. The Secret Session, 16–18 March, the RDS
A true celebration of everything Irish, this indoor festivity is set to be a good one.
Live Bands, DJ's, rugby on the big screens, and Irish dancing lessons are all to be expected, as well as oversized Jenga, Connect-Four, and ring toss.
8. Netflix binge
Netflix is getting all patriotic, and hopes to everything that is Irish by promoting great Irish films and flicks with Irish actors in them.
Brooklyn, The Young Offenders, Bloody Sunday and Sing Street are all available on Netflix, along with many more.
7. Dublin Bay Prawn Festival, 17–19 March, Howth Village
The Dublin Bay Prawn Festival is the ultimate foodie experience offering delicious food and live cooking demos, street entertainment and demonstrations by local fishermen all in the heart of the idyllic village of Howth.
It's not just the food that's set to draw crowds, the Dublin Bay Prawn Festival is also famous for music & entertainment, walks, talks and seaside antics.
6. Outdoor Adventuring
While most people will flock in to town for some frenzied festivities, a nice walk along the beach or a picnic in the park can be just as merry.
Grab the kids, the other half or the dog and set out on a bright and blustery Paddy's Day adventure.
Alternatively if you're a fan of organised fun, book in to an adventure centre for some canoeing or rock climbing.
5. The Spirit of Dublin Craft and Food Fair, March 18, Teeling Whiskey Distillery
While this festival may be at a whiskey distillery, we're going to this one for the amazing food alone.
Exhibitors will include Dublin Doughnut Company, Dot Brew, Popsy Daisy Popcorn, The Cupcake Bloke, Currabinny, Bean and Goose, Hope Brewery, Improper Butter and Delish Melish, so wear your (green) eating pants.
4. Settle in with the Late Late Show St.Patrick's Day Edition
On a weird and wonderful edition of the Late Late Show, Saint Patrick's Day's show will see a host of celebs get their DNA tested.
Broadcaster Maura Derrane, soccer pundit Eamon Dunphy, comedian Jason Byrne and politician Michael Healy-Rae gamely agreed to have their DNA tested to determine their ancestry.
Football legend Paul McGrath will also join Ryan Tubridy in studio to assess the Republic of Ireland's chances in the crucial upcoming World Cup Qualifier against Wales.
3. Bake some patriotic AF goods
From shamrock cookies to anything drenched in green food dye, if you don't want to leave the house this Friday, then baking is a fun and functional way to spend the day.
Plus, you will be considered a complete legend by you drunk housemates when they stumble home to find a series of delectable baked goods awaiting them.
2. Bernard Shaw Graffiti Jam, March 19, The Bernard Shaw
Looking for something a bit edgier?
Check out Dublin's underground sights and sounds at the Bernard Shaw, with the return of the Eatyard Food Market.
There will be a range of festivities to celebrate Irish street culture, along with the Shaw's usual flea market.
1. St Patricks Day Parade
While there may be many annoying drunk people around, attending your local Saint Patrick's Day parade is a right of passage for anyone in the country on the day.
So get there early, drag your mates along, and applaud and watch the floats as they go by.