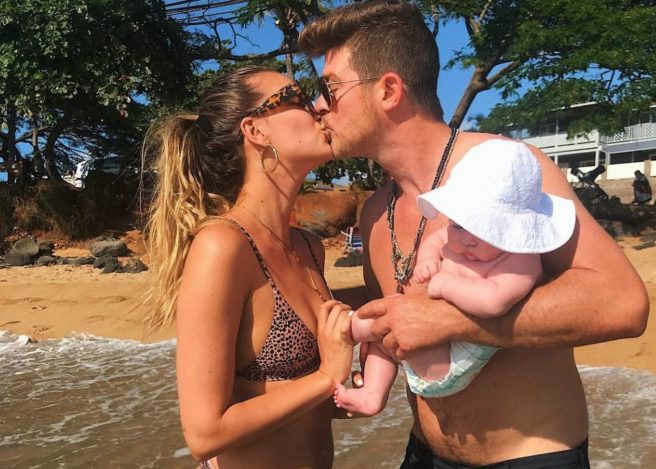 There must be something in the water in celeb land because another couple have just announced that they're expanding their brood.
Robin Thicke of Blurred Lines fame and his girlfriend April Love Geary are having another baby…six month after the birth of their first child, Mia.
Well, that was quick!
The 23-year-old model uploaded several snaps to Instagram to celebrate the news – all of which feature the absolutely adorable Mia, who wins hands down for smiliest baby EVER.
In the photos, Mia can be seen holding the scan and giggling away.
April captioned it, ''someone is going to be a big sister next year! We're so excited to share with y'all that I'm expecting again! We find out Saturday if it's a boy or a girl! What do you guys think it's going to be? Forgot to mention the due date is Robins birthday!''
As Robin's birthday is in March, it suggests that she is almost three months along.
The 41-year-old singer ahs been in a relationship with April since 2015; a few months after he split from his ex-wife Paula Patton, whom he was with for 21 years and has one child, eight-year-old Julian.
Robin Thicke and Girlfriend April Love Geary Reveal They're Expecting Second Child — 6 Months After Welcoming Baby Mia! https://t.co/GflrrfH4w2

— People (@people) August 22, 2018
Congratulations came from friends and family on social media, with lovely comments such as ''congratulations!! Hope you have a easy pregnancy. I am sure the baby will be as happy as Mia. She seems like she's always happy'' and ''congratulations!!!! I'm so excited for you and your family!!! I hope you have a boy so you can have one of each but it won't matter one way or another!! Nothing but love!!!''
We're wishing April a happy and healthy pregnancy!