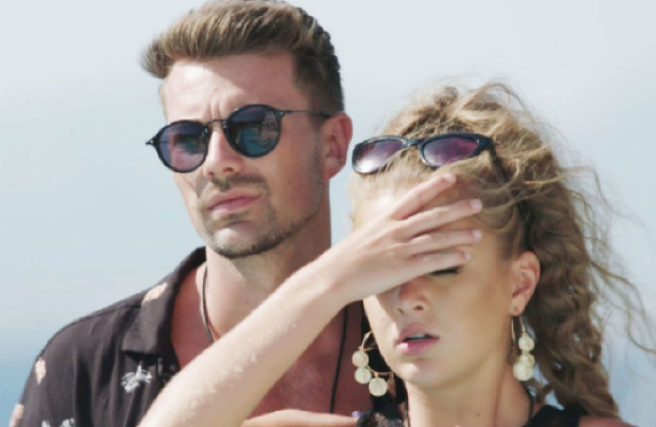 We can't keep up with the twists and turns Love Island has been offering us lately.
Between Dr Alex snubbing the babe that is Alexandra, then her trying it on with Paul, but he's holding out to see what happens with old Laura – *ARGH and breathe* – it has been a whirlwind this past week.
Now, it has been confirmed that two people have chosen to leave the villa.
Alex finally finds a girl who's really into him, and what does he do? #LoveIsland pic.twitter.com/2dDO9gyHrE

— Love Island (@LoveIsland) July 17, 2018
You've probably guessed it from their cheeky shenanigans in the bathroom…Georgia and Sam have quit.
Their decision came after an intense recoupling, which will be aired this evening.
According to reports, nobody could deter the pair from walking.
Who'd have thought an argument over who gets to sleep on the sofa could be such a turn-on? #LoveIsland pic.twitter.com/E9o8RHfDDD

— Love Island (@LoveIsland) July 18, 2018
Georgia and Sam were "unhappy" with the outcome of the recoupling so they packed their suitcases shortly after filming ended, alleged The Mirror.
A source dished the dirt to the publication, saying:
"They filmed the recoupling and afterwards Sam and Georgia weren't happy so walked out of the villa.
"None of their fellow Islanders could persuade them to stay. The explosive scenes will be aired tomorrow [Thursday] or Friday."
Did Georgia just sass @carolineflack1?! Woaaaah. #LoveIsland pic.twitter.com/YoDJrlN71G

— Love Island (@LoveIsland) July 16, 2018
The other contestants were "stunned" by the news.
However, it doesn't come entirely as a surprise.
Georgia and Sam were forced earlier in the week to split or face eviction.
When you find out the public don't back you… and neither do the rest of the Islanders. #LoveIsland pic.twitter.com/0ka6JAruC4

— Love Island (@LoveIsland) July 16, 2018
Initially, they chose to break-up and remain in the villa, with intentions of getting to know the new faces.
Clearly, it has become too much for the pair after we saw Georgia confess that they had broken the rules in the bathroom.
In addition to the explosive scenes, we are set to be treated to this evening – their departure makes sense.
Get the popcorn ready, their exit is expected to air tonight or Friday.