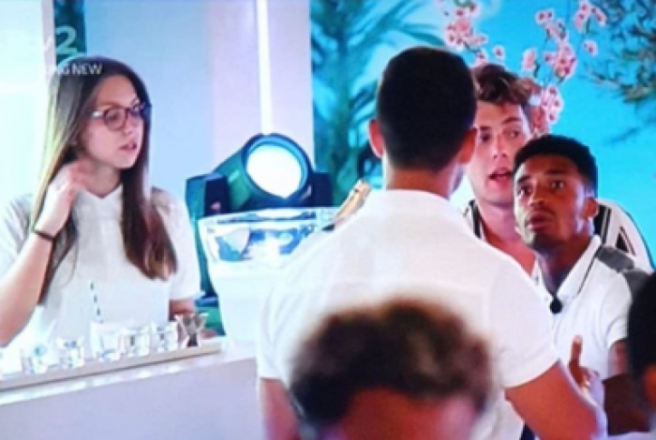 We're all aware that Love Island isn't exactly the most transparent show on television.
Many of the scenes are orchestrated by the producers, and a number of ex-Islanders have expressed the view that they were treated like "performing monkeys" (Malin Andersson's words, not mine).
The latest mistakes made on last night's show have fuelled claims of the series being a total fix, as audiences spotted the same shop assistant who received Anton's number behind the bar at the club later on;
Is this the same person? @LoveIsland bar maid vs shop assistant #lovelsland pic.twitter.com/o5ALgSd5d0

— (@ZsaZsaHaze) July 14, 2019
It's a pretty hilarious error on the part of the producers; they didn't even TRY to hide the poor extra. The woman with never-ending jobs is now the subject of a million internet memes, unluckily for her.
The girl didn't even attempt to disguise herself, which makes it even more entertaining;
The club and shop scenes were massively false, but we lapped it up all the same. Amber Gill's account even referred to it as "illuminati confirmed".
The shop assistant and the barmaid… same glasses, hair and wristband. iLuMiNaTi cOnFiRmEd #LoveIsland pic.twitter.com/ToZKVmJ05b

— (@AmberRoseGill) July 14, 2019
The response online to the mistake was instantly gas, with the public calling for the woman to be paid more for working multiple (made-up) jobs.
Does she ever get a chance to catch her breath? To sleep? To have time to herself? It doesn't seem like it, it's slave labour up in ITV2 studios.
I see the shop assistant has a new job working in the club. #loveisland

— Jono Read (@jonoread) July 14, 2019
Viewers are also calling the latest plot twist a total fix, after forcing the Islanders to choose between saving Joanna or Michael from the island
Everyone's fairly positive that Michael will be saved purely so he can get back together with ex-flame Amber, who confessed that she still has feelings for Michael last night.
It was all very dramatic, but we all know that Amber is far too good for CHALDISH Michael Griffiths. He doesn't deserve her, end of discussion.
Feature image: ITV2/Twitter/@ffsStudgey