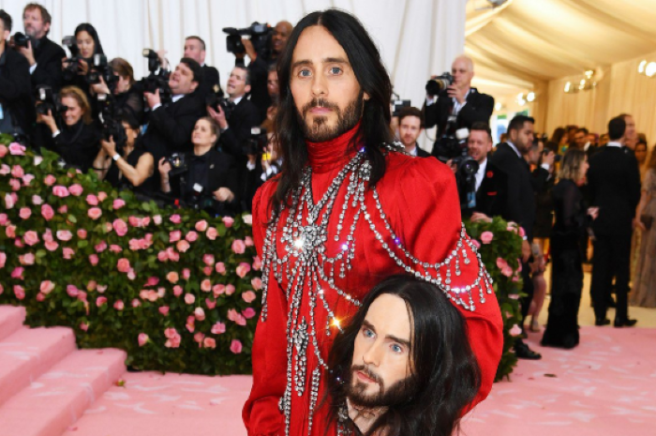 Ah, The Met Gala. Nobody really knows what exactly happens at it, except Anna Wintour being passive aggressive.
From Lady Gaga changing outfits four times in 15 minutes to Shawn Mendes carrying Jared Leto's imitation head, with a theme like 'camp'; how could there not be hilarious moments?
Here are our top tweets to give you a giggle on fashion's most royal day of the year.
1. Fenty Beauty backing up Bad Gal RiRi's absence:
And???? https://t.co/68Ny3EPLsx

— Fenty Beauty (@fentybeauty) May 7, 2019
2. Zendaya KILLIN' the Cinderella trope, even down to the glass slipper:
SHUT UP Zendaya even lost her glass slipper walking up the stairs. this iconic bitch #MetGala pic.twitter.com/amU0D781G5

— cross (@perrieseulgis) May 7, 2019
3. Miley Cyrus didn't cause the stir that most people expect of her…
Im not mad, I'm just disappointed. #MetGala pic.twitter.com/6OQWT8VC3F

— Ethel Beavers did it. (@itsblitz77) May 6, 2019
4. Celine Dion being Celine Dion:
Celine Dion said she didnt know what "camp" was. I think that's because she just calls it living. pic.twitter.com/bABUV759kH

— Jarett Wieselman (@JarettSays) May 7, 2019
5. What even is 'camp' anyway?
Camp is like porn, the technical definitions are unclear but you know it when you see it.

— alanna bennett (@AlannaBennett) May 7, 2019
6. The heteros not making enough effort on the runway:
Watching a bunch of straight celebrities who take themselves too seriously trying to do "camp": pic.twitter.com/5IUmsvhtiw

— Carlos Maza (@gaywonk) May 7, 2019
7. Tan France and his 'make an effort' meme:
Looking at all the straight men in suits like #MetGala pic.twitter.com/IAidES6mj7

— marinovski popovski (@dangnammit) May 6, 2019
8. Lady Gaga SHUTTING SH*T DOWN and evoking some…interesting…responses:
same pic.twitter.com/g2g0pBhEhk

— David Mack (@davidmackau) May 6, 2019
9. Rihanna's absence? She's busy with indie boys:
rihanna's busy doing final touches on tame impala's new album so she won't be at the met gala and i'm so pissed

— jaboukie (@jaboukie) May 6, 2019
10. Never forget Jason Derulo's fall:
This is camp https://t.co/EDZTWrqtrL

— Dana Schwartz (@DanaSchwartzzz) May 7, 2019
11. The gays were up in arms over the level of camp brought:
Me screaming THAT'S NOT CAMP on this United Airlines flight is camp – NOT WHATEVER YOU'RE WEARING!!!!!!!!!

— billy eichner (@billyeichner) May 6, 2019
12. Invisibility is the new camp:
Rihanna subverting expectations for the Met Gala by not even showing up… Camp legend

— JuanPa (@jpbrammer) May 6, 2019
13. The disappointment…camp heroes turned down the camp on the ONE DAY they needed to turn it up?
Category is: People who are camp every single day of their damn lives but chose today – for some reason – to play it safe #MetGala pic.twitter.com/WEHVN4DKTT

— Emily O'Donnell (@emily_odonnell) May 7, 2019
14. High School Musical cast be killin' the game:
Ashley Tisdale looking stunning at #MetGala pic.twitter.com/uvsl0sBfwN

—(@Ahmedxjean) May 6, 2019
15. Oh Shawn, you tried your best honey:
I mean, poor Shawn Mendes interpreted it to mean "Camp Rock," so what do I even know? https://t.co/6oKWuMKnoi

— Michael Ross (@MykleRaus) May 7, 2019
16. He's wearing grey sweatpants? The neck:
me looking at a guy wearing grey sweatpants#MetGala pic.twitter.com/ecbPWS1jfn

— gabe bergado (@gabebergado) May 7, 2019
17. Your only true enemy is yourself:
my therapist: Jared Leto isn't real he can't hurt you
Jared Leto: https://t.co/AZOz4DzRKz

— JuanPa (@jpbrammer) May 6, 2019
The hilarity is still ongoing, and we are so grateful to the Met Gala for bringing some absolutely outrageous outfits each year. If only for us to have a good laugh at.
Feature image credit: Instagram/@la_cuarta_pared