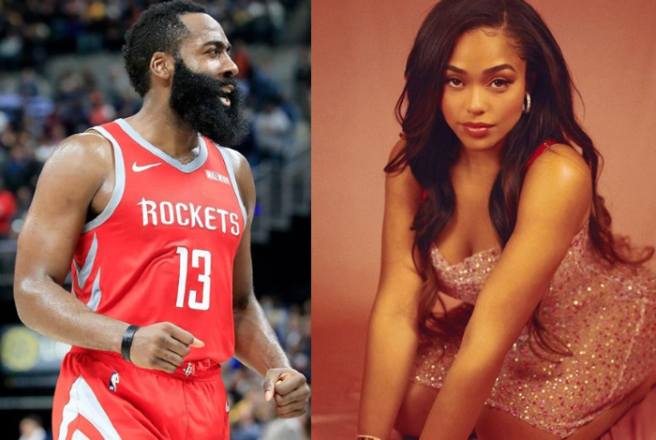 This one is an absolute curveball, if we're honest. We thought the news that Jordyn Woods is embroiled in a cheating scandal with Khloe's ex and baby daddy Tristan Thompson was bad enough…
Now it's been reported that Jordyn ALSO was hooking up with another one of Khloe's ex-boyfriends ON THE SAME NIGHT as Tristan: James Harden. *Gasp*
Grab the popcorn for this roller-coaster of a ride, it's a wild time.
Kylie Jenner's 21-year-old former BFF is allegedly telling her truth in an interview with Jada Pinkett Smith, airing this Friday, but she also signed a non-disclosure agreement with the Kardashians as an extra on their reality show.
The Red Table Talk will hear Jordyn's side of the story, but The Blast have other tales to tell regarding the night in question. Sources claim that Woods told friends that she "hooked up" with James Harden right after Thompson.
TMZ, The Blast, and People all reported that Woods signed an "ironclad NDA" with the famous family to never speak about them, so the interview could get her in a spot of legal trouble, but if this claim about Harden is legit, Khloe will presumably be RAGING.
We have absolutely zero idea what Jordyn was thinking if all of these allegations are true, we're guessing alcohol played a part though.
The incident with Harden apparently happened on February 18 in LA, after James had come home from an NBA All-Star game. (Khloe must have a thing for basketball players.)
Woods apparently confided in her mates that she'd hooked up with Harden, and that Khloe gave the Woods her "blessing". Khloe dated Harden for eight months back in the day.
Unforch, Khloe didn't actually know about the meeting between Woods and her ex-boyfriend and found out after the news broke of Thompson's alleged affair with Woods.
Woods claims to have contacted Khloé that Monday after leaving Thompson's home, and claimed she was being a "watchdog" to make sure nothing dodgy happened, and never mentioned James Harden.
Sources state that Khloe was absolutely "devastated" over Woods' betrayal, as Woods is Kylie's best friend and has been almost like a member of the family herself.
Feature image; Instagram/@jordynwoods/@jharden13