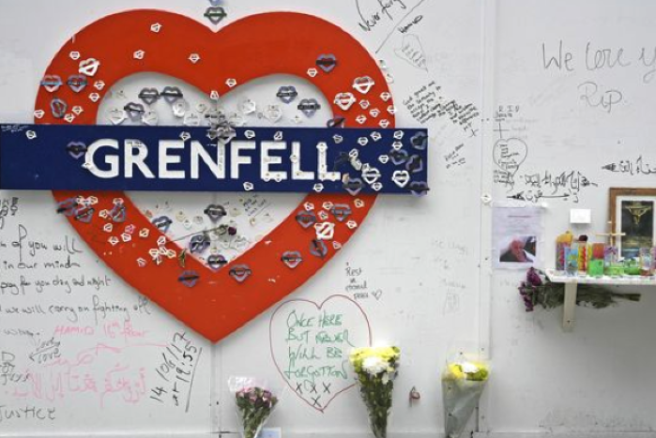 Across London and around the world, the 72 people who lost their lives in the Grenfell Tower fire are being honoured.
The fire began in the wee hours of the morning on June 14, 2017. The tower, currently covered in white sheeting with a heart at the top of each side, was lit up in green at 12:54am this morning, marking the time that the blaze was reported last year.
The victims' names were read aloud at 1:30am at a vigil at a nearby church, the BBC reports.
According to Kensington and Chelsea Council, a number of the households who survived are still displaced.
At Night

A brightness and symbol to a #Community #wronged. #Londoneye in #Solidarity #Beautiful #United4Grenfell #Solidarity #Justice4Grenfell #Safety4All_ pic.twitter.com/gkHM2X6Cl5

— Grenfell Tower (@Still_I_Rise_GT) 13 June 2018
68 households are in emergency accommodation, with 42 staying in hotels, 22 in serviced apartments, and the remaining four with family or friends.
Another 52 households are situated in temporary accommodation and 83 are in permanent homes.
One of the survivors, Natasha Elcock, appeared on BBC Radio 4's Today programme and commended her community for their response to the tragedy:
"We could have been the most angry community out there because of what happened, but we've chosen to be dignified, be calm. Ultimately, that's earned us respect."
Today across the Brigade we will mark the anniversary of the #Grenfell Tower fire. At midday we will fall silent in memory of all those who died or lost loved ones, their homes and possessions https://t.co/V2IUGYEJQI pic.twitter.com/HbWf0YlMs6

— London Fire Brigade (@LondonFire) 14 June 2018
Natasha, who is a member of survivor group Grenfell United, continued:
"We really want to ensure that we change so much that Grenfell is not remembered because it killed 72 people but because it has a legacy of change – that behaviours change within social housing, the way people are treated, how they are listened to."
A minute of silence will be observed at midday in the UK to pay tribute to the victims of the fire.
London Fire Commissioner Dany Cotton noted, "One year ago today London changed forever. The tragic and unprecedented fire at Grenfell Tower will never be forgotten.
"At midday today, London Fire Brigade will fall silent in memory of all those who died or lost loved ones, their homes and possessions.
Crowds gather at the base of a Green lit #Grenfell Tower tonight amidst tributes and flowers to remember those lost at #Grenfell#GrenfellTowerFire #GrenfellTower #Grenfell pic.twitter.com/27ajSjCbae

— Grenfell Speaks (@grenfellspeaks) 14 June 2018
"As well as honouring the memory of the lives lost, we pay tribute to the resilience and spirit of the local community."
She added, "I know I speak on behalf of everyone at London Fire Brigade when I say that you are never far from our minds."
"We want the nation to keep Grenfell in their consciousness," Justice 4 Grenfell campaign group member Yvette Williams told the BBC.
"The anniversary is about love and support – the fight can start again on Friday and Saturday – and keeping that humanity going on that day."