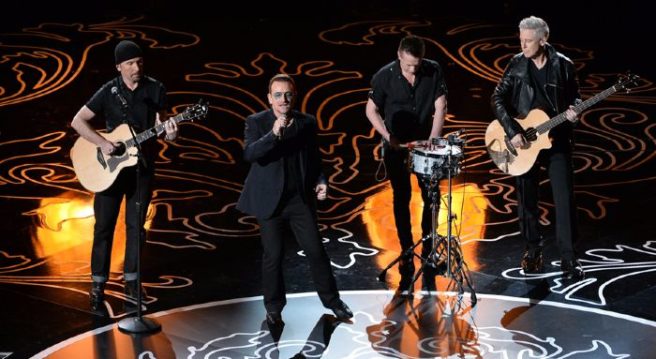 U2 played an intimate gig for the Grenfell firefighters last night
As many of us were basking in the glory of Coldplay last night, U2 were putting on a pretty sweet performance, too.
The band invited 50 London firefighters who fought in the Grenfell Tower blaze to watch them perform live in a private concert, which doubled as a rehearsal.
In a near-empty stadium, the firefighters watched U2 get ready for their Twickenham gig, and some took to Twitter to share their admiration for the band:
Really neat of U2 to invite firefighters and friends to rehearsal. Service people work so hard. Much deserved. #U2TheJoshuaTree2017

— Chloe Mac (@ZooStation89) July 8, 2017
Invite to London Firefighters and their guests that was only confirmed very late yesterday evening. Very luckily I know a firefighter.

— Mark Reed (@mrmarkreed) July 7, 2017
U2 opened up their rehearsal at Twickenham tonight to some London firefighters ahead of their concert tomorrow.

— Emmett Murphy (@iEmmett) July 7, 2017
U2 play to an invited audience of firefighters and guests. 48 people. #wow #u2 pic.twitter.com/UGcrBfDnGo

— Mark Reed (@mrmarkreed) July 7, 2017
Massive respect to @U2 for inviting large group firefighters with family and friends to soundcheck for London shows#littlebitgoesalongway

— Ex-PTSDDetective (@saddetective) July 8, 2017
@akmcquade U2 let London firefighters watch the rehearsal and one of them periscoped and I am useless right now: https://t.co/ryhXPkd7Of

— Robyn Shepherd (@Robyniwitz) July 7, 2017
Bono and the lads played seven songs in total for the firefighters and their families.
Fair play, lads.