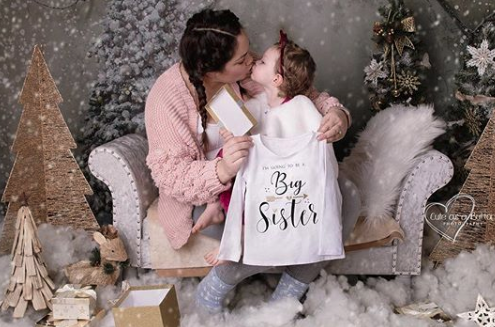 Congratulations are in order for Grace Mongey, known by her online moniker Faces by Grace.
The beauty blogger and super-mum who boasts 150,000 Instagram followers, announced on the platform that she is due to become a mama for the second time.
In a festive series of snaps, Grace sits with her daughter Sienna, who opens a gift of a slogan t-shirt, reading 'I'm Going to be a Big Sister.'
'Christmas came early for Sienna this year,' Grace captioned the cute pics.
In the hashtag, Grace revealed that her new baby is due in May of 2019.
In an adorable post to two-year-old Sienna, Grace previously penned:
'I couldn't image our lives without you, you bring us such happiness and laughter! You really are one in a million and my best friend!'
'I'm so excited to watch you grow and develop into the most loving little lady! I love you to the moon and back.'
Grace and fiancee Chris Gernon have been focusing on making their new home their own, and with a new addition on the way, we're sure we will get an insight into the decoration of the nursery via Grace's new home interiors page.
A huge congratulations to the couple, and of course, Sienna!