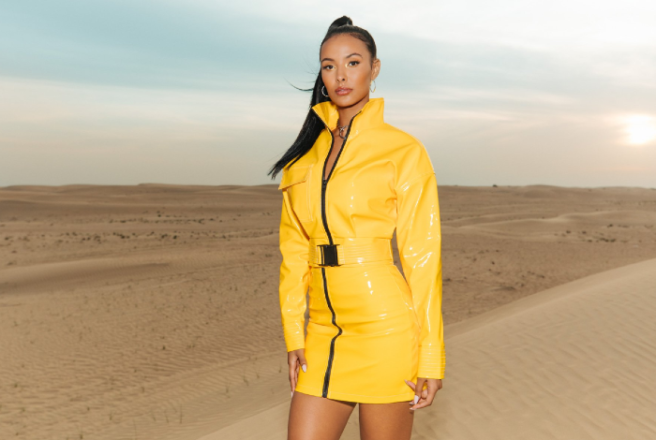 PrettyLitttleThing have gifted us with yet another gorgeous collection from TV presenter and BBC Radio One DJ Maya Jama.
The stunning and versatile 'It Girl' is modelling the brand new collaboration, and BOY are we impressed with the new drop.
There's snakeskin, vinyl trenchcoats, faux fur jackets, zany prints, bold colours, relaxed urban tracksuits with chunky trainers and curve-hugging outfits; something for every body.
She's a definite style goddess, and this is a sequel that's not to be missed. The second collection has some seriously sizzlin' pieces that we need in our wardrobes A-to-the-SAP.
Maya Jama worked alongside the brand's in-house team to design another sure-fire sell out collection, with a whopping 82 pieces available in sizes four up to 24.
Maya's personal style is immediately recognised, and the perfect lewks are combined with on-trend transitional pieces that merge streetwear with night attire. Think comfy but sexy:
We are DROOLING over the PVC pieces, as well as those gorgeous accessories to match, like berets and faux fur handbags.
Speaking on the PLT x Maya Jama second collaboration, the radio DJ said;
"I was so overwhelmed at the response and support for my first collection with PLT. It did so well that I couldn't be more excited to unveil my second. Once again, it's a total reflection of my character and personal style."
"I'm always on the move and so I've designed this collection for every girl, from size 4-24, so they've got the perfect look from day to night."
The 25-year-old is currently dating UK grime artist Stormzy, and features on the brand's new podcast, PLT: Behind Closed Doors.
The collection includes athleisure feels, sporty separates and oversized sweater dresses, paired with chunky trainers by day and over the knee boots by night. Nail those cool but comfortable looks with Maya Jama's range.
They've also got teddy bear tracksuits for the ultimate snug feel, but we are DYING to get these three pieces especially: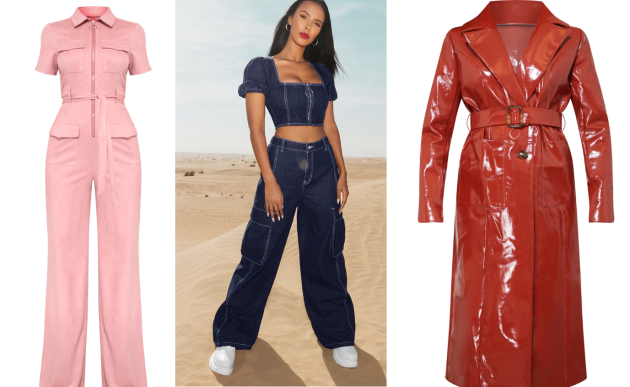 A pink suede jumpsuit, Aaliyah-style 90s denim wide-leg trousers and matching zip-up crop top, and a VINYL trenchcoat. These will grab attention for all the right reasons, trust us.
In conclusion:
Look= Served.
Wig= Snatched.
Head= Scalped.
If you want to immerse yourself in fashion that makes you look and feel good, don't play by the rules this season and check out Maya Jama's collection.
These clothes will hug you in all the right places, we've already added all 82 pieces to our carts. (Zero self-control)