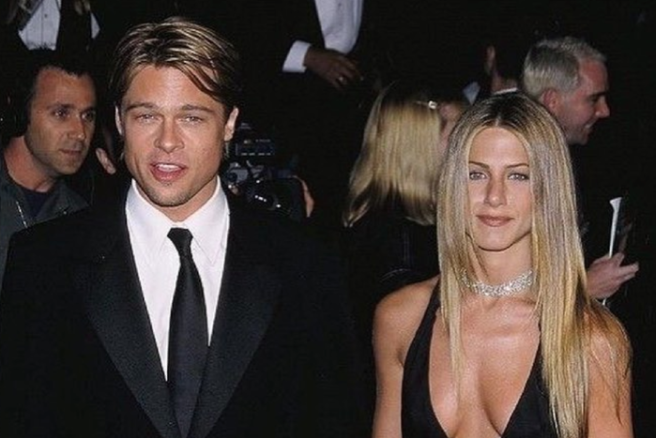 Brad Pitt has landed himself in hot water after accidentally insinuating that his marriage to Jennifer Aniston was boring. Ouch.
The actor was forced to majorly backtrack after an interview with Parade magazine back in 2011 resurfaced, and used the word 'dull' to describe his life back then.
The 55-year-old Hollywood actor has since retracted his words and clarified his intentions, but it doesn't sound good…We'd be pretty p*ssed off if we were Jen.
He also seemed to imply that his life became far more spontaneous and exciting after meeting the woman he left Aniston for- Angelina Jolie.
"I spent the '90s trying to hide out, trying to duck the full celebrity cacophony. I started to get sick of myself sitting on a couch, holding a joint, hiding out. It started feeling pathetic."
"It became very clear to me that I was intent on trying to find a movie about an interesting life, but I wasn't living an interesting life myself," he continued.
Now that's all well and good, but then he made a highly polarising comment, and angered Jen's fans in the process;
"I think that my marriage had something to do with it. Trying to pretend the marriage was something that it wasn't."
Brad even released a statement to defend his words, saying; "It grieves me that this was interpreted this way. Jen is an incredibly giving, loving, and hilarious woman who remains my friend."
"It is an important relationship I value greatly. The point I was trying to make is not that Jen was dull, but that I was becoming dull to myself, and that, I am responsible for."
The couple dated in the 1990s and wed in 2000. Brad later began a romance with Angelina, after meeting her on the Mr and Mrs Smith set in 2005.
They share six kids and were eventually married in 2014, but their marriage broke down in 2016. Oh Brad.
Feature image: Instagram/@loveaniston