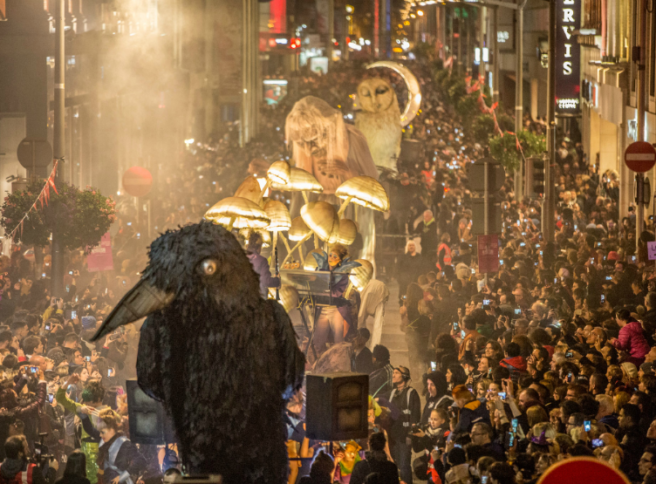 This October Bank Holiday Weekend, get involved with the supernatural with Samhain's annual Bram Stoker Festival; four days of adventures await.
One of Ireland's most infamous writers has a legacy worth celebrating, there's something for everyone with highlights including theatre performances, illustration, readings, animations, outdoor screenings, family fun parks, podcasts and electrifying adventures taking place over the course of three spine-tingling days.
1. PaINTCLUB x Bram Stoker, The Irish Emigration Museum, Fri 26 Oct, 7pm-10pm
Unleash your inner artist at Paintclub's Paint & Wine: Bram Stoker Festival edition, where you'll re-create a Stoker inspired painting over some vino. Underneath the streets of Dublin, at Dublin's EPIC, retrace the steps of our fair city's ancestors and see the journey of Irish emigrants before arriving at the pop-up Paintclub studio deep in EPIC's 19th century vaults.
No painting experience is required for this creative, fun and relaxed night where art and history meet, in vaults which have seen it all – you will be guided with step by step instruction from blank canvas to haunting masterpiece, which is yours to take home!
Tickets: €55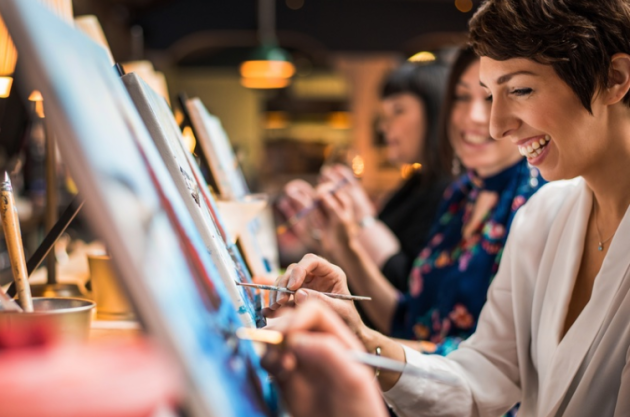 2. BRAM: audio ghost tour, Dublin 1, October 1st – December 31st,
BRAM is a haunted audio tour inspired by the classically creepy works of the legendary author himself. Immerse yourself in the ghoulish words of the master of terror as you wander through the maze of Dublin's nightmare streets on this ghastly audio adventure. Just put your headphones on and experience terror downloaded straight into your ears, submerge yourself in the world of Bram himself. The audio tour costs a mere €5.80, you'd be mad to miss it.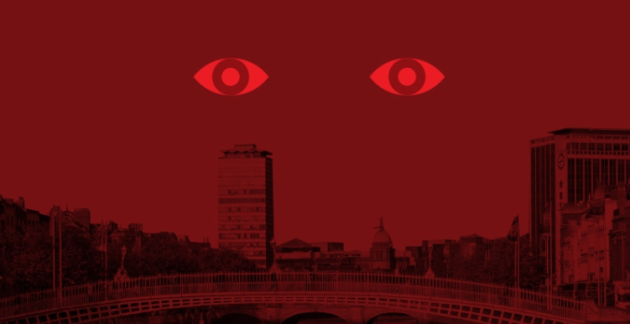 3. Night of the Shifting Bog, St. Anne's Park, Fri 26 Oct – Mon 29 Oct, 8.30pm & 10.00pm,
Their 2016 show at Bram Stoker Festival 'Behind the Dark' sold out within 24 hours, so be forewarned and grab tickets for the world premiere of this thrilling new show from world renowned aerial performance company, Loosysmokes. Night of the Shifting Bog is inspired by the landscapes of Stoker's imagination in his first and only work set in Ireland, The Snake's Pass. Using the woodlands in the park as their stage, this dark, immersive and atmospheric aerial acrobatic show will both enthral and spook adventurous audiences.
Tickets: €16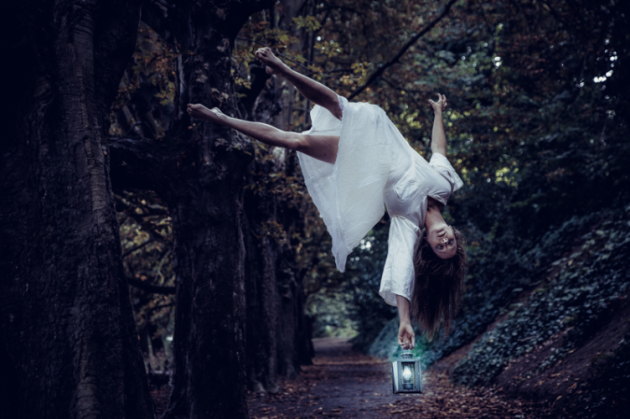 4. Macnas Parade, Dublin 1, Mon 29 Oct, 7pm – 8pm
Bram Stoker Festival once again welcome the internationally renowned spectacle company Macnas to the streets of Dublin for an unforgettable free nightfall parade. The parade has become a much-admired Bram Stoker festival feature. Join people of all ages along the city's streets as evening falls on Monday October 29th for Out of the Wild Sky, a haunting and hair-raising parade of otherworldly enchantment. Pioneers of imagination and creators of amazing spectacles will bring captivating excitement to the dark Dublin streets, it sounds UNREAL. Check out the route below: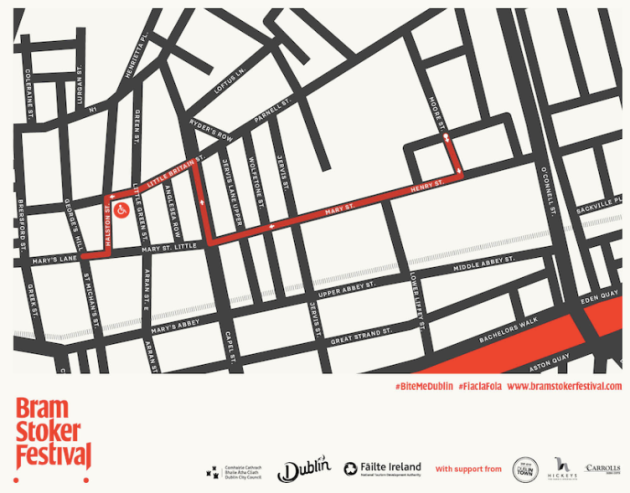 5. Stokerland, St. Patrick's Park, Sat 27 Oct & Sun 28 Oct, 11am – 4.30pm
Introducing a rare pop-up Victorian fun park for all ages, which opens its gothic gates this weekend in St. Patricks Park. Dublin's stunning cathedrals act as a gothic backdrop for this eerie gathering , presenting street theatre, a performance tent, free face-painting, Victorian funfair rides, macabre thrills and gruesome games for all to experience. As well as entertainment, Stokerland is complete with a food village, making it the ideal family fun day. We recommend fancy dress, btw, it's the Halloween Bank Holiday weekend after all. Admission is free, but rides and concessions have small charges. BYOS is encouraged. (Bring your own snax)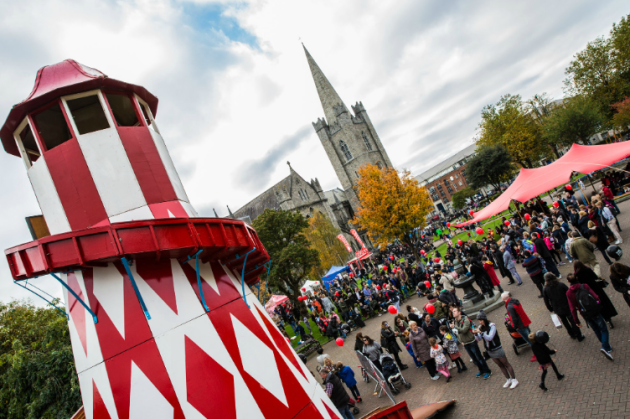 6. Dracula's Disco, The Ark, Meeting House Square, Temple Bar, Mon 29 Oct, 2pm-4pm
Dracula's own DJ will be getting the crowds in the spooky dance spirit, spinning the decks and scratching vinyl at our outdoor family party. DJ Will Softly will be raving on The Ark's outdoor stage, complete with confetti cannons to inspire some immortal dance moves. Come along in costume for maximum demonic disco banter. The event is free entry on a first come, first served basis, no pre-booking required. Final entry is at 3.45pm, get down early if you can.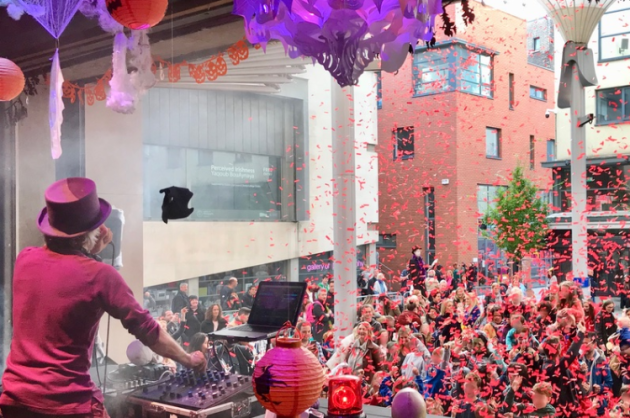 7. Slice: the Gothic Graphic Novel Live, Belvedere House, 6 Great Denmark St, Sat 27 Oct , 1pm
Stray Lines Comics Collective illuminate the dark side with the precision of lab scientists, and serve an absolute feast of deadly thrills. This immersive storytelling experience combines music, sound design, projected illustration and live performance to give the feeling of theatre, cinema and animation combined. Showcasing the comic artists Debbie Jenkinson, Paddy Lynch, Katherine Foyle, Philip Barrett and Elida Maiques, this is one event that's not to be missed.
Tickets: €13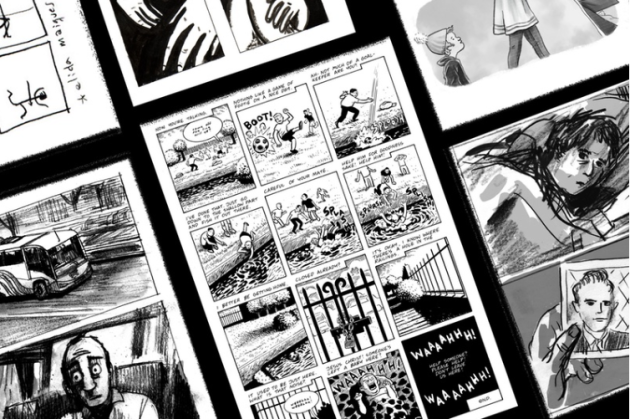 8. Creature Features: The National Botanic Gardens of Ireland, Glasnevin, Fri/Sat/Sun 8pm-10pm
Friday: Arachnophobia
Saturday: Little Shop of Horrors
Sunday: Invasion of the Bodysnatchers
Creature Features is 3 nights of adults-only horror-comedy screenings within the walls of the National Botanic Gardens. Gather your friends for after-hours shenanigans and natural-horror thrills, with the stunning Victorian glasshouses as a subtly spooky backdrop.
Tickets: €16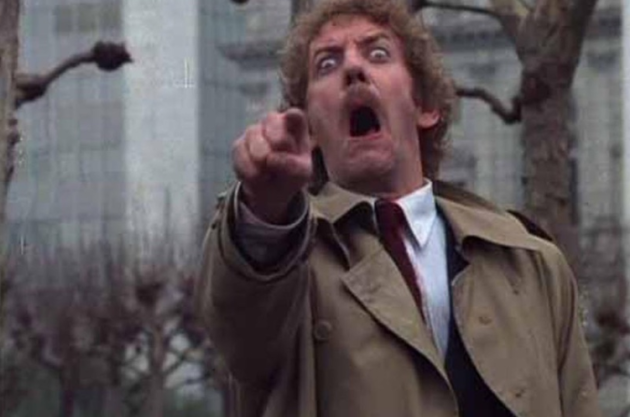 9. Nesferatu: Symphony of a Century, St. Ann's Church, Dawson St. D2, Fri 26th Oct, 7pm & 9pm.
An animated interpretation of the Andrea Mastrovito's classic 1922 horror film Nosferatu.
In present day New York City, NYsferatu gives the original film it's own unique twist, positioning the dynamic vampire character as the 'abject outsider'- an emigrant escaping war at home only to face economic exploitation, discrimination and prejudice in their new place of living. The film retells the story of the vampire through the lens of modern-day fears about xenophobia surrounding Islam as well as immigration, and refugees. This sentient cinematic feature is also made up of 35,000 hand-drawn images which replicate early cinema. Tickets: €21
Here's a taster of the film for any curious creatures:
https://www.youtube.com/watch?v=lOYBsf-nE08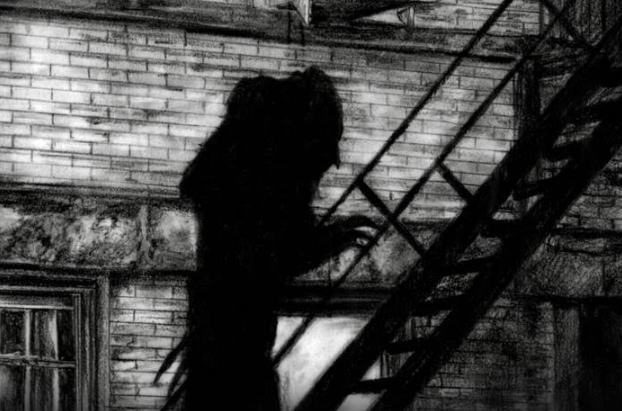 10. The Horrors in the Black Church, The Chapel Royal, Dublin Castle, Dame St, Fri 26, Sat 27, Sun 28 & Mon 29 Oct at 7pm and 9pm
Enter the gothic Chapel Royal in Dublin Castle, take your final resting place on the pews within and witness three of Irish theatre's darkest minds coming together to create a theatrical delight. The Horrors in the Black Church displays three short horror plays within one show. Enjoy a trio of terrifying stories from the altar specially made to stop your heart.
Tickets: €13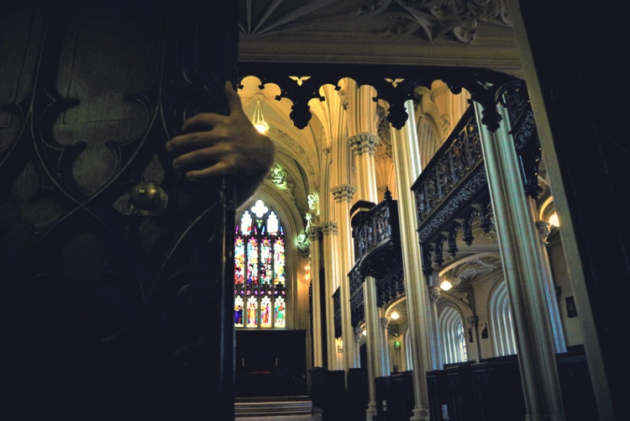 Check out the Bram Stoker Festival website for more info on the most chilling weekend of the entire year, prepare to get scared.
#bitemedublin