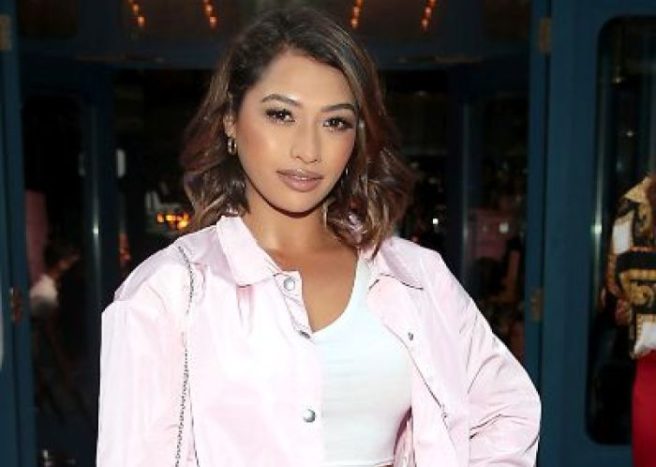 If you're anything like us, you adore PrettyLittleThing – and it has some fabulous autumn collections in tow. We were so excited to see their debut.
Their End of Summer bash last week was themed pink and the party was definitely embracing it, with eye-catching sparkly disco tops and pink furry dresses dotted throughout the crowd.
And what a crowd it was.
From designers to popstars, the guest list was hot and they mingled together, sipping vodka cocktails and nibbling on bite-size treats.
The Saturdays singer and fashion designer Vanessa White was there looking gorgeous, and eager to share about her insider fashion tips and what she's looking forward to for A/W 18.
When it comes to what's next for A/W 18, it was all about relaxed vibes.
"I'm a big fan of athleisure vibes, whether that's in the day or even in the evening with a pair of heels and a nice bag. So I'm looking forward to seeing what the new key AW18 athleisure and co-ord pieces."
Rocking a fabulous pink shell suit skirt, she spilled on how to get the perfect Insta snap.
''Lighting is always key,'' she said. ''I'm also a big fan of plants. The more the better.''
Her must-have travel accessory? "I have an old-school leather Miu Miu bum-bag that I tend to take everywhere with me and it's great because it goes with really casual outfits but also looks great with more glam styles."
The designer did warn against trying to follow new fashion trends too hard. Instead, she suggests that one should dress to suit her body type and style.
"I just always think it's best to wear things that suit you, rather than just following a trend. If you naturally wear styles that are really hot in terms of trends, then that's just a bonus."
Also, present at the event were TOWIE stars Chloe Sims and Vas J. Morgan. Both British celebrities have signed to go on Celebs Go Dating this year.
The two have been 'best mates' for a while now and are excited to support each other during their dating experience.
Chloe dished about the type of guy she will be looking for on the show, saying the mystery man must be "as cool as Vas."
"I'm not being short-ist, but I want someone as tall as Vas. So they've got to be tall, have a bit of game, and have a bit of banter," she revealed.
"They've got to be me basically," Vas laughed. "Just the hetero-version."
When asked if she had any dating advice for other mums or women, Chloe replied, "if I've got agents speaking to my husband I definitely can't advise anyone. Go on Celebs Go Dating! I haven't got any advice.
"I'm rubbish at dating basically. I'm rubbish with men unless they're gay. […] I've got a daughter and I'm blessed.
"But I haven't got a boyfriend. We'll see, maybe by October it might be different."
Influencers and models enjoyed the event, looking stunning in their PLT pieces. Like Vanessa, we seriously can't wait for the new autumn line.
If you're looking for a drop-dead gorgeous summer outfit or the perfect pink crop top and trouser set, PrettyLittleThing's website is the only place you should be checking out.