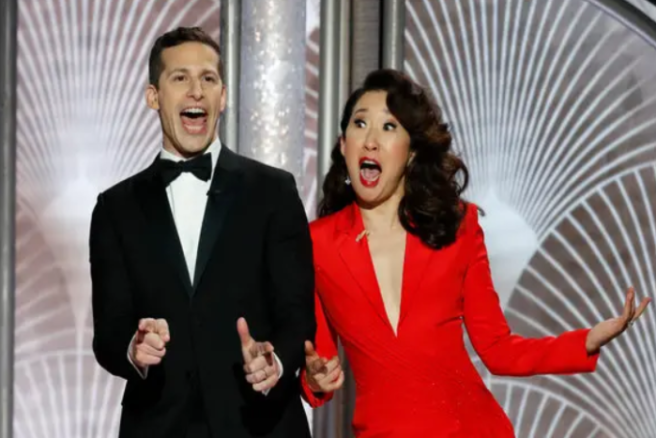 First of all, Sandra Oh is a NATIONAL TREASURE who must be protected at all costs.
The Killing Eve protagonist is the first actress of Asian descent in a shocking 39 years to win the Golden Globe for best leading TV actress. That's not where history-making ended for the co-host of the awards.
To be exact, Oh broke THREE records last night, and also succeeded in making everyone cry during her opening monologue.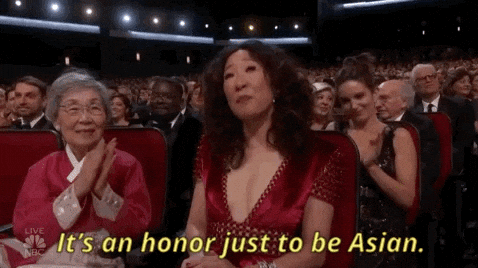 She was the FIRST person of Asian descent to be asked to host the awards ceremony, with the gig normally going to a white male, except for Tina Fey and Amy Poehler's iconic three-year-run from 2013 until 2015.
Hilarious Brooklyn 99 and Saturday Night Live alum Andy Samberg co-hosted the Globes alongside Oh, with the actress declaring during their opening speech that;
"I said yes to the fear of being on this stage tonight because I wanted to be here to look out into this audience and witness this moment of change." OKAY NOW WE'RE IN TEARS.
Sandra Oh made me cry with this pic.twitter.com/Mjf0VDJSp8

— Jarett Wieselman (@JarettSays) January 7, 2019
She witnessed that outstanding moment of change later on, when she won Best Actress in a TV Drama for the BBC America fixture Killing Eve, making her the first woman of Asian descent to win more than one Globe.
She won her first award in 2006 for her ground-breaking run as badass heart surgeon Cristina Yang on Grey's Anatomy. BUT SHE WASN'T DONE.
Sandra became the first woman of Asian descent in 39 years to win best actress in a TV drama, with the last actress (Yoko Shimada) winning in 1980. Thank the Gods, Oh will return to Killing Eve for season two on April 7.
Sandra Oh: ["Crazy Rich Asians"] is the first studio film with an Asian American lead since "Ghost in the Shell" and "Aloha."

Emma Stone [in the crowd]: I'M SORRY! pic.twitter.com/YI1S7sLvPH

— David Mack (@davidmackau) January 7, 2019
Emma Stone shouting an apology at Sandra Oh for whitewashing was a major gas. We love you Emma, never change. Except for personal growth regarding diversity maybe…
The 76th Annual Golden Globes awards was a ceremony of laughs, drama (what else) and celeb moments, and we made the ultimate list of winners and snubs.
Freddie Mercury (semi) biopic Bohemian Rhapsody quite surprisingly took home the coveted Best Picture gong, with Rami Malek also winning Best Performance by an Actor in a Motion Picture for the Drama category.
Nicole Kidman later ignored him onstage in what was possibly the most awkward moment of anyone's lives ever. Literally.
Rami Malek dedicates his #GoldenGlobes award to Freddie Mercury pic.twitter.com/rjcDNFMyuX

— Mesut (@Tvvittergod1) January 7, 2019
Musical A Star Is Born received by far the most snubs of the evening, only winning the Best Song category for Shallow after being nominated for five awards overall. BUT GAGA?!? SHE A STAR.
Glen Close took home the Best Actress Globe for The Wife, beating Lady Gaga for the achievement. Bodyguard actor Richard Madden was given the Best Actor award for his BBC role about the Home Secretary's security agent.
He also broke our hearts by saying that all the talk of him playing James Bond were mere "rumours." PLEASE make it happen honey. Please.
look at him!!!!!! i knew it!!!!! nothing but love and respect for my golden globe winner richard madden pic.twitter.com/TApgEuNAsd

— flo ¨̮ (@astralbarnes) January 7, 2019
Political biopic Vice, which chronicles the later life of American Vice President Dick Cheney, shocked the audience by losing the Best Picture – Musical or Comedy award to Green Book.
The award for Best Supporting Actor was given to Green Book actor Mahershala Ali; the film also took home the Best Screenplay gong. Christian Bale's award was Vice's only win of the night, despite six nominations.
Hilariously, a girl who was serving Fiji water the entire night has become the internet's new meme, for the purpose of living her best life;
The Fiji water girl is literally living her best life #GoldenGlobes pic.twitter.com/DxsdNgQCas

— ENDGAME (@wingardiumbrad) January 7, 2019
Olivia Colman deservedly won Best Actress – Musical or Comedy for her black comedy performance in The Favourite, which also lost out on five awards.
Roma predictably won Best Foreign Film, which was a popular choice, as well as its director Alfonso Cuarón being honoured with Best Director.
Lady Gaga's dress arguably was the highlight of the show, aside from the goddess that is Sandra Oh, of course. No, we're not finished talking about her. REPRESENTATION MATTERS, PEOPLE.
There could be 100 people on the #GoldenGlobes red carpet… but I'm only looking at @LadyGaga and her dress pic.twitter.com/aAgWQk5azo

— MTV (@MTV) January 7, 2019
Her hair matches her dress, and it looks God Damn Stunning. We're shooketh.
People were NOT happy that Gaga lost the Best Actress award to Glen Close, but they were doubly annoyed that Mark Ronson arguably stole her thunder during their acceptance speech for the Best Song award.
Despite co-writing Shallow with Gaga and two others, Ronson did nearly all of the speaking while accepting the award.
WE'RE OFF THE DEEP END #goldenglobes @ladygaga @Wyattish @killRossomando pic.twitter.com/sNQje5tKeT

— Mark Ronson (@MarkRonson) January 7, 2019
Of course, there were cringey moments galore. The first one came on the red carpet when E! News presenter Giuliana Rancic basically made major flops while interviewing Debra Messing.
Next came when the hosts tried to give everyone in the audience flu shots, and NOBODY wanted needles on camera. Nobody. Especially not Willem Dafoe.
fear dot gif #GoldenGlobes pic.twitter.com/12SS3NPByU

— Mashable (@mashable) January 7, 2019
Andy Samberg and Sandra Oh's opening monologue was a tad cheesy, but they had to navigate a minefield of not insulting anyone there or making any mistakes about diversity.
Seeing as Kevin Hart's Oscars hosting gig is in the toilet following the revelation of old homophobic tweets, the duo kindly offered to take his place.
Glen Close's face when she beat Lady Gaga was also a big LOL, considering she clearly was just as shocked herself that she beat the ENIGMA Mother Monster.
By the looks of it, Glenn Close did not think Glenn Close was going to win, either. #GoldenGlobes pic.twitter.com/89lP80EICI

— Vulture (@vulture) January 7, 2019
A highlight of the night was when current James Bond Daniel Craig took a selfie with Idris Elba, a rumoured contender to take his place.
We swooned, they swooned; in conclusion, everyone swooned.
Seeing double-07 Idris Elba's snap with Daniel Craig at the #GoldenGlobes is too good #Bond (: Instagram/idriselba) pic.twitter.com/uSCPcjt3mS

— BBC Newsbeat (@BBCNewsbeat) January 7, 2019
Ben Whishaw scooped up a Best Supporting Actor award for shouted out a tribute to 'queer hero' Norman Scott in his acceptance speech.
The British actor won for his portrayal of Scott in BBC drama A Very English Scandal during the glittering occasion, and he is just adorable. SO pure. Protect him.
Another surprise came in the Best Animated Film category, when Spiderman: Into the Spiderverse beat The Incredibles 2 for the desired award.
SPIDERMAN: INTO THE SPIDERVERSE WON A GOLDEN GLOBE AND THIS IS WHAT MY SPIDERS DESERVE pic.twitter.com/2vpn90aigU

— daddy stark (@woIvern) January 7, 2019
That's the ultimate round-up, folks.
There was glamour, there was snubbing, and there was cringe personified. We can't wait for next year already…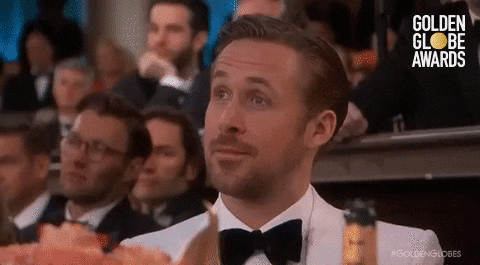 The Golden Globes ceremony will air on RTÉ Two tonight at 9pm if you want to see all the gossip first-hand.