The reigning queen of the celebrity feud: it's Taylor Swift's top six spats
This week, Zayn Malik allegedly threw shade Taylor Swift's way – retweeting a message that implied the songstress is more focused on making money than using her fame for good.
It was a move that prompted Tay-Tay's boyf Calvin Harris to launch a full-on attack on the former One Directioner… though the Scottish DJ later relayed somewhat, complimenting Mr Malik on his "great voice".
Still, it's certainly not the first time that 25-year-old Ms Swift has been involved in a tiff. In fact, trouble and feuding seems to follow the singer-songwriter.
Here, we chronicle the highs and lows of her top six fall-outs:
Taylor Vs Katy:
The original feud! We can hardly remember what kicked it all off at this stage – something to do with Katy, 30, allegedly stealing her former friend's dancers for a world tour (why were the dancers so eager to leave, we'd like to know).
And even now, it seems it's the stand-off that refuses to die-down.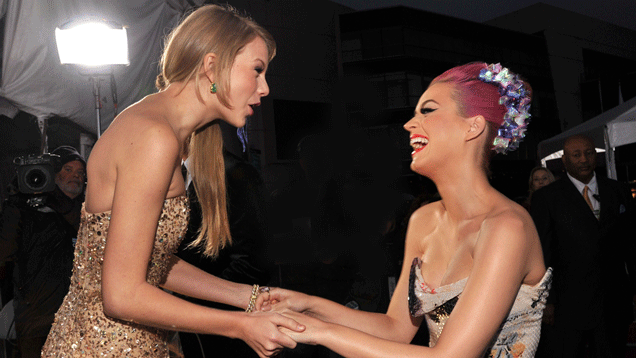 In fact, just late last month, Ms Swift brought on stage with her during a concert in Massachusetts an over-sized shark – a prop Katy famously used during her Super Bowl performance. She evidently thought it was hilarious; others were less enthused.
Of course after Taylor's high-profile Bad Blood video, we're guessing that a kiss-and-make-up scenario isn't on the cards anytime soon.
Taylor Vs Miley:
We love that Ms Cyrus, 22, speaks her mind – and speak her mind she certainly did during a recent interview with Marie Clare.
"I don't get the violence revenge thing," the singer said referring to Taylor's Bad Blood video. "That's supposed to be a good example?
"And I'm a bad role model because I'm running around with my titties out? I'm not sure how titties are worse than guns."
Now, HollywoodLife.com reports that Ms Swift knows Miley doesn't like her (FYI: Katy and Ms Cyrus are mates – and Tay-Tay thinks the former turned the latter against her).
In fact, Swifty is SERIOUSLY concerned that the Wrecking Ball singer is going to have a pop at her at the VMAs in two weeks' time: Miley is presenting; Taylor is up for nine awards.
We can't wait.
Taylor Vs Nicki
Speaking of the VMAs – Taylor was left red-faced when she assumed Nicki Minaj's VMA Twitter rant was about her (it's not always all about you, Tay-Tay).
Ms Minaj, 32, had been complaining that her mega-hit Anaconda didn't get a Best Video nomination (which actually does seem a bit strange).
"If your video celebrates women with very slim bodies," her online complaint began, "you will be nominated for vid of the year." Cue Taylor jumping in, taking it all personal.
Predictably, within 24hours Katy Perry just couldn't resist elbowing her way into the situation with her own online contribution.
Wowsers. Anyway – Twitter went properly into meltdown over the whole situation, and Tays later took a chill pill and admitted that she had probably jumped to conclusions.
She also invited Ms Minaj to join her on stage "anytime," (pretty sure the woman sells out her own concerts, mind). The duo subsequently seem to be on good terms – for the moment anyway.
Taylor Vs John
The Pennsylvanian singer and a guitar-weilding John Mayer had a brief romance – although things didn't end too well. Then she wrote a song, Dear John, which he claims is a bit mean.
Lines include: "Don't you think 19 is too young to be played by your dark twisted games, when I loved you so?" and "I lived in your chess game, but you changed the rules every day."
These days, Mr Mayer says she just ignores him.
"You can see me at the Grammys doing what I do best, being avoided by Taylor Swift," the 37-year-old said while hosting the Late, Late Show back in February.
John and a certain Katy Perry, of course, have had an on-off thing since 2012 – which probably doesn't help matters.
Taylor Vs Apple and Spotify
Taylor famously withdrew her music from Spotify because she says they weren't giving her enough dough – though the likes of U2, The Rolling Stones and Paul McCartney don't seem to mind. Anyhoo, her argument is: "Music is art, and art is important and rare.
"Important, rare things are valuable. Valuable things should be paid for."
So, what's the alternative? Well, funny you ask… because in early June Apple began its music streaming service – a platform that, until Tay-Tay bemoaned its payment policy just a few weeks after its launch, many folk were unfamiliar with.
"We don't ask you for free iPhones. Please don't ask us to provide you with our music for no compensation," she said in an open letter.
The tech corporation quickly did a U-turn, as confirmed by executive Eddy Cue on Twitter.
And so in the end everyone involved seemed rather happy – especially the woman herself, who just days after the incident announced that she'd be releasing her mega-selling 1989 album… on Apple. Yup, everyone's happy, so.
Taylor Vs Tina Fey AND Amy Poehler
We hardly know where to look – comediennes Tina and Amy are living legends, after all. But a couple of years ago, Swifty just didn't find them all that funny
Why? Well, the duo were hosting the Golden Globes in 2013, peppering the gig with plenty of tongue-in-cheek gags. Over the course of the evening, they even made fun of Miss Taylor's dating history.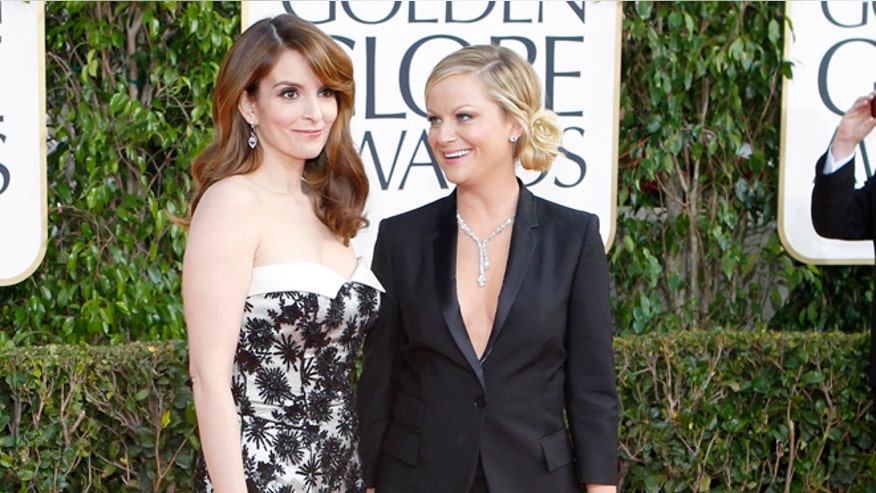 Tays didn't seem to see the funny side though and later told Vanity Fair: "there's a special place in hell for women who don't help other women."
Ouch.
In contrast, for example, the likes of Hollywood legend Leonardo DiCaprio managed to smile and say nadda at the receiving end of similarly scathing remarks.
Indeed, last year he did just that when Ms Fey announced his arrival on the Golden Globes stage with the properly hilarious: "And now, like a supermodel's vagina, let's all give a warm welcome to Leonardo DiCaprio…"