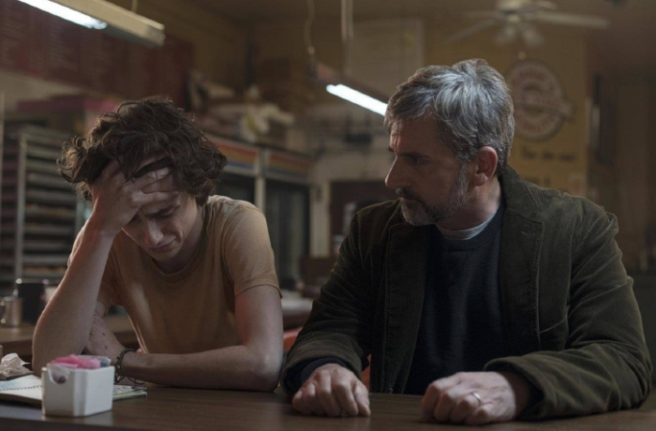 Another year, another Academy Award's series of snubs. It wouldn't be the Oscars unless some fandoms were left devastated on behalf of their favourite actor or actress, would it?
The 2019 awards are seeing some record breakers, first-time achievements and MAJOR actors left out of the nominations, much to the upset of Twitter.
So who are the biggest history makers and snubbed heartbreakers?
1. Timothée Chalamet, Beautiful Boy
Our favourite human ever (protect him at all costs) failed to garner an Oscar nod for his protrayal of a crystal meth addict son of Steve Carrell (also snubbed), and people are ChalaMAD about it.
TIMOTHÉE CHALAMET DESERVED AN OSCAR JUST FOR THIS LINE HE PORTRAYS EMOTIONS PERFECTLY TO THE POINT WHERE YOU CAN FEEL HIS CHARACTERS PAIN
BUT HE WAS ROBBED ONCE AGAIN pic.twitter.com/4ivWhuq2on

— (@chalamazes) January 22, 2019
He was ROBBED.
Excuse me, @TheAcademy, where's Timothée Chalamet's nominee for best supporting role? #OscarNoms pic.twitter.com/lnU4DY3kRZ

—(@epiphangi) January 22, 2019
We won't forget this, Academy. You've made an enemy.
Me watching Beautiful Boy and Timothée Chamalet get completely snubbed in the #OscarNoms pic.twitter.com/pdcUGCj3zD

— (@emmaharls) January 22, 2019
2. Bradley Cooper for Best Director, A Star Is Born. Okay, but women get snubbed in this category every year, so let's not cry too hard.
We're super shook by this one, Lady Gaga must be upset on his behalf since she's been endorsing him for the entire of awards season ("There could be 99 in a room but all it takes is just one to believe in you")
Live look at Bradley Cooper after getting that Best Director snub #OscarNominations pic.twitter.com/aaJiAsm4XI

— (@JakeThompsonOE) January 22, 2019
Classic Guardians of the Galaxy reference, we had to laugh at this one.
Bradley Cooper May be bummed about missing a nomination for Best Director but that snub could end with him winning Best Actor. That race just got more complicated! pic.twitter.com/MBZVyhIT34

—(@msamandaspears) January 22, 2019
3. Crazy Rich Asians for…ANY category. Any.
Michelle Yeoh deserved recognition for her outstanding take in the all-star Asian cast, she slayed that screen. She even owns that iconic emerald ring featured in the film, if that's not commitment I don't know what is.
I'm taking the Crazy Rich Asians snub as a personal attack. #oscarnoms pic.twitter.com/HOmkQa94ZI
It's offeNSIVE god damn it.
The snubs of IF BEALE STREET COULD TALK, CRAZY RICH ASIANS, MARY POPPINS RETURNS, and WIDOWS? And choosing to nominate BOHEMIAN RHAPSODY? pic.twitter.com/Q6OGKmBhku

— (@MitchellFierce) January 22, 2019
Looks like a riot is about to happen…
If The Academy snub Crazy Rich Asians we riot
4. Emily Blunt for EITHER Mary Poppins Returns or A Quiet Place
HOW.
Emily Blunt still doesn't have an Oscar nomination

CAN YOU IMAGINE THAT?!? pic.twitter.com/uNMDvNtJUY

—(@aguirreryan) January 22, 2019
She's so versatile, so dedicated, so classy. We can feel her hubby John Krasinski's blood boil.
how can you watch emily blunt's exquisite performance in a quiet place and just not nominate her for an oscar? I'm having trouble processing this pic.twitter.com/6ofqcI2cVp

— (@missemilyblunt) January 22, 2019
Processing this snub is a hard pill to swallow right now.
in loving memory of Emily Blunt. she didn't die, the Oscars just ignored her pic.twitter.com/8Q2KKLyoOa
Rest in pieces.
5. A FEMALE DIRECTOR. AGAIN.
We cannot believe this…it's 2019 and still only five women have EVER been nominated, and only one woman has ever won the gong (Kathryn Bigelow).
Lynne Ramsay's You Were Never Really Here, and Debra Granik's Leave No Trace, despite being recognised on the film circuit by Sundance and Cannes, received no nominations.
I don't wanna complain too much but my fav film of 2018 was You Were Never Really Here directed by Lynne Ramsey.

It's a shame that such an incredible film that makes the most of every aspect of cinema, helmed masterfully by a female director has been dismissed.#OscarNoms⁠ ⁠

— (@JackHoward) January 22, 2019
Ramsay and BlacKkKlansman director Spike Lee, who has earned his first Academy Award nomination, are the most laureled filmmakers on the critics' awards circuit after Alfonso Cuarón for Roma.
#OscarNoms: And no surprise here, female directors shut out of this year's #Oscars. The Academy should get Natalie Portman to present the award for Best Director. pic.twitter.com/dXqycTpMeR

— (@AshleyLCarter) January 22, 2019
Other women who were ignored were Marielle Heller for Can You Ever Forgive Me?, Chloe Zhao for The Rider, Tamara Jenkins (Private Life), Karyn Kusama (Destroyer), Mimi Leder for On the Basis of Sex and Josie Rourke for the incredible Mary Queen of Scots.
The NECK.
At least Canadian artist Domee Shi is being celebrated as the first female director to be nominated for Best Short Film, after helming Pixar's adorable Bao.