It's been almost two months since TMZ broke the internet with claims that Kylie Jenner was pregnant with her first child, and with no confirmation from the Kardashian camp, fans have had to do a little detective work of their own.
Between supposed sightings of baby bumps and cryptic Instagram posts, the "is she, isn't she" debate doesn't look like it's going to end any time soon, and her latest Snapchat has fans more confused than ever.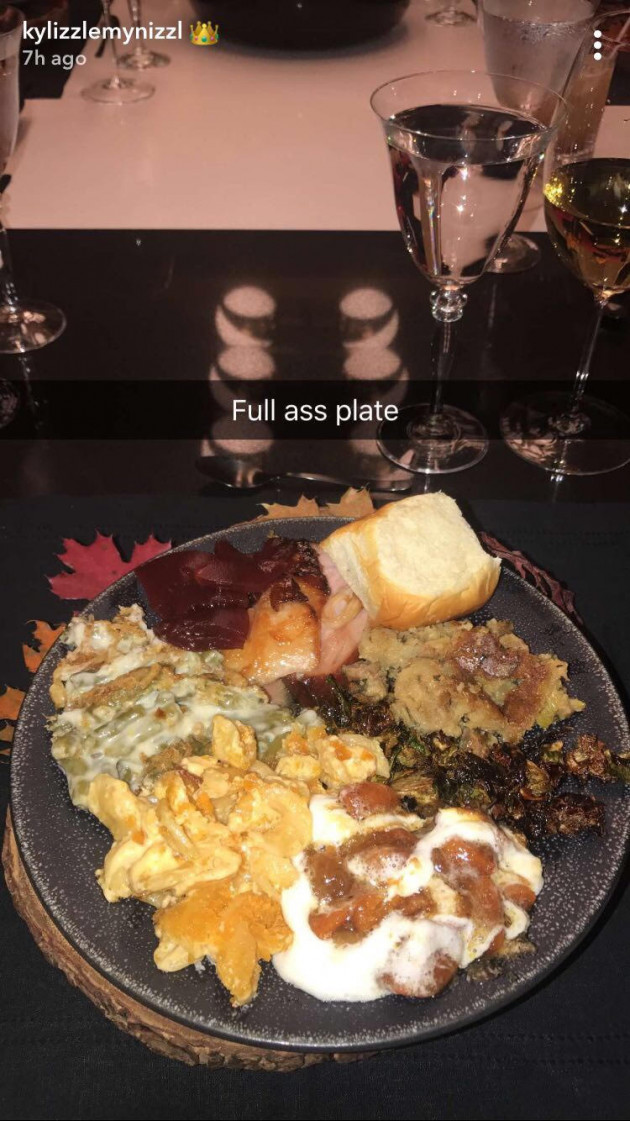 The 20-year-old makeup mogul shared a photo of a home cooked meal along with the caption "full ass plate" – but it wasn't Kylie's food that got people talking.
Eagle-eyed Snapchat users spotted what looks like a glass of white wine in the top right corner of the photo, leading many to believe the star is not pregnant.
Some fans took to Twitter to share the revelation:
Kylie Jenner posted a snap of her dinner, and there was glass of wine in front of her. You're welcome. She's not pregnant.

— ChelseaElice Reyes (@chelselice) October 31, 2017
If Kylie Jenner is Pregnant why is she having a glass of wine ? #kyliejenner #kyliejennerpregnant #kylieispregnant #kyliejennerpregnantproof pic.twitter.com/LSM1JV6hPo

— Kimi Breezy (@Kimi_Breezy) October 31, 2017
so @KylieJenner if u were preg u wouldn't be drinking wine so is this urs for real or is this just to throw us off pic.twitter.com/tpQq5pziYG

— ᗷᖇOOKE OᒪᔕᑕᕼEᗯᔕKE (@BrookeOlsch) October 31, 2017
drinking wine thinking about how kylie jenner must be pregnant if she hasn't denied it yet

— joaquín (@hoeaquin) October 7, 2017
Meanwhile, fans have speculated that Kylie made an attempt to hide her 'baby bump' in another recent snap.
Some suggest the star chose to purposefully cover her stomach in an over sized hoodie in a clip that showed her cuddling with her dogs, Norman and Bambi.
Can we just get a confirmation already? The suspense is killing us.