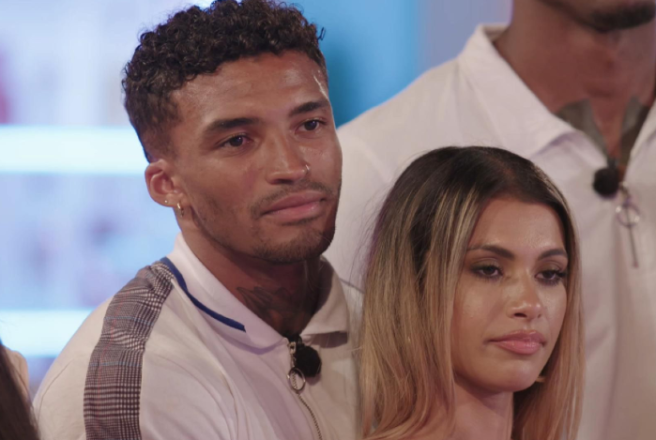 Now, we have to admit; This isn't surprising content.
Love Island star Joanna Chimonides has denied claims that she kissed Michael Griffiths at a festival last night, after they were pictured getting pretty damn close.
Footage emerged of the 22-year-old and the 27-year-old firefighter sharing a passionate kiss at Kisstory together with other reality TV stars.
Well well well, what have we here #LoveIsland pic.twitter.com/Xb4lRrwWvG

— In The Style (@inthestyleUK) July 28, 2019
In a set of videos posted to her Instagram Stories on Sunday, Joanna said of the images;
"It's of me and Michael so-called kissing. I just want to make a point, we weren't kissing." Well, the photos kind of disprove her claims…
The fan reaction has been mostly hilarious, as audiences predicted Joanna taking Michael back after he crawled back to Amber Gill on the show.
the whole of the UK to Joanna after seeing the photos of her and Michael kissing:#LoveIsIand pic.twitter.com/CluT94tnSe

— Sophie Favager (@sophie_favager) July 29, 2019
"There are pictures of me and Michael so-called kissing. He was saying something in my ear, I found it funny. Can't remember what it was. I think one thing with me and you'll get to know this the more you get to know me, is I don't hold onto hate and negativity."
She continued: "For me, it's been a lot easier for my journey and me getting over the Michael situation, is me letting go of whatever happened and letting go of hate.
"That's just how I am and what I do and in the end, I'm happier and I feel so good everyday and that's purely because I'm letting go of the negativity and anything that was upsetting me at the time."
Wait wtf are Joanna and Michael a thing again? After he said on tv to Amber "did you hear me mention a specific person?" Joanna you absolute mug#LoveIsland

— Father Spliffmas (@XmasSmoothie) July 29, 2019
Joanna also insisted that she and Michael are just friends after he chose to remain in the Love Island villa rather than leave with her when she was eliminated two weeks ago.
She continued: "It's okay to be friends with someone you were with, it is okay for that. I'm friends with my exes and it is OK.
"For me and Michael, it was such a laugh being together. It was really nice and everyone had such a laugh. If I didn't let go of that negativity I wouldn't have had a good time yesterday and I wouldn't be making memories with that Love Island lot."
Joanna is a CLOWN. After all her insta rants. What a dummy. #LoveIsland https://t.co/J43viXJQb8

— (@eatwitharli) July 28, 2019
While some of the fans are giving Joanna far too much heat, saying she has no self-respect for taking him back, others are simply laughing at her;
"Joanna you absolute mug," one Twitter user said. Another called her a 'dummy' and a 'clown' for taking back the villa villain.
Another fan rightfully pointed out that Joanna is now receiving all the hate that Amber would have gotten had she taken her ex back, who humiliated her by choosing Joanna after Casa Amor.
Joanna is now receiving all of the hate that Amber would of got had she took back Michael at the re-coupling, Whew #LoveIsIand

— (@ARIESBBYJAY) July 29, 2019
Joanna was adamant on Instagram that seeing Michael attempt to win Amber back after he remained in the villa without Joanna was "hard to watch".
We all thought she'd rip him to shreds on Love Island: Aftersun with Caroline Flack, but they seemed to be getting on suspiciously swimmingly;
Joanna did a video ranting saying Michael was just whispering something in here ear… funny looking ear https://t.co/JBHVLDucjT

— LG(@grezabell) July 29, 2019
Joanna previously stated that there was zero chance that she'd take Michael back, but apparently that was nonsense.
"Did you hear me mention a specific person," Michael told Amber when she quizzed him on saying "I've found what I've been looking for".
Of course, he ACTUALLY said "I found what I've been looking for and now she's leaving," meaning Joanna. What a player.
wish joanna had more self respect she deserves so much better than michael #loveisland pic.twitter.com/VWkFPGaTv2

— katie (@sivanssellitto) July 27, 2019
Michael became a national enemy after breaking Amber Gill's heart on live television, leaving her standing alone and loyal after his head was turned in Casa Amor.
His antics were the subject of countless memes (which we pored over for hours). It seems the pair are dating once again, but will his head be turned by someone else?
We reckon so. Once a chaldish man, always a chaldish man.
Feature image: ITV