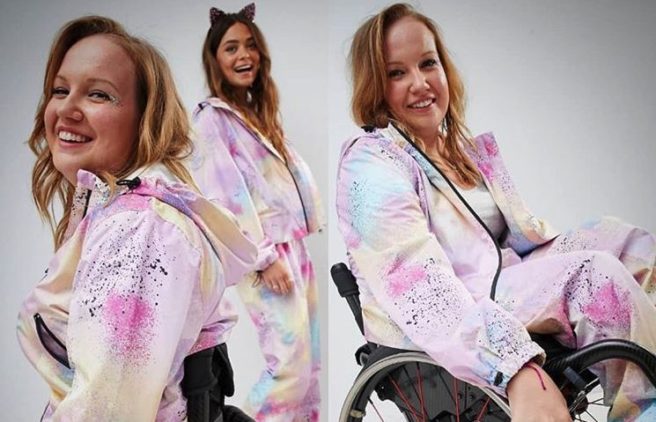 Hallelujah for inclusive fashion!
Fashion retailer ASOS have proven how sound they are by designing a new piece of clothing, suitable for people with a disability.
The rainproof jumpsuit is modelled by Great Britain paralympic Chloe Ball-Hopkin.
Speaking to Newsbeat, Chloe explained that she wants to ''make fashion that is accessible to everybody."
The athlete and BBC Bristol sports reporter was contacted by ASOS, who wanted to see if she would be interested in a collaboration.
The idea for the jumpsuit came to Chloe after she got drenched while at a festival with her boyfriend.
"You get the same version whether it's you or I buying it – that's the point. It is exactly the same for me as it is for you,'' the 21-year-old said.
My @ASOS all in one arrived today! I am so proud to have been a part in this . Who else has ordered theirs? pic.twitter.com/2figKBeStr

— Chloe Ball-Hopkins (@chloe_ballhopzy) July 5, 2018
The support she has been getting has reached a global level.
Social media have shared their delight, with one Twitter user saying, ''this jumpsuit is cute, and better yet, inclusive of people who use wheelchairs. Excited to see more inclusive clothing coming out!''
Another commented, ''just ordered from ASOS for the first time! Love that they're collaborating for accessible fashion!''

Great to see this sort of representation on the @ASOS website. Shopping is something most of us take for granted in terms of representation. Seeing disabled people in the media through campaigns, as actors, singers is so important as it challenges the stigma around disabilities. pic.twitter.com/asQAprWFxS

— Gurls Talk (@gurlstalk) July 4, 2018
Disability blogger Shona Louise has written a moving piece championing the brand for catering for differently-abled bodies.
She wrote, ''for so long accessible clothing has been ugly, ridiculously expensive and generally unappealing. Actually designing something with disabled people in mind is a whole other amazing and important step. It's not the extra step either, it's the equal step.''
I've shared my thoughts, as a disabled person, on why that accessible ASOS jumpsuit is so important: https://t.co/oQuB9OYqFp #asos

— Shona (@shonalouiseblog) July 5, 2018
This is not the first time ASOS has included a model who has a disability in a campaign.
Model, blogger and leg amputee Mama Cax was featured by the brand in one of their activewear campaigns back in in January.
So what other brand will be next to follow in their footsteps?