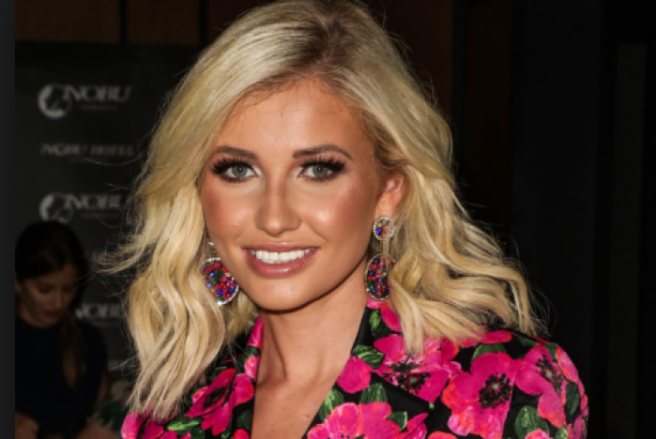 Amy Hart has opened up to Grazia Magazine about committing to therapy after leaving the Love Island villa, and the forgiving nature of women in the villa.
The former BA flight attendant has also commented on certain Islanders in particular, namely Maura Higgins' "ever-changing" definition of girl code and the two sides of Curtis Pritchard.
The blonde beauty quit the show after Curtis ended their 720 hour romance, following his head turning in Casa Amor and his new romance with Maura Higgins.
Amy has been open about putting her mental health first, which has earned her fans from all over the world and celebrity support alike.
The former Islander also claims she "cannot fault" ITV for their improved after care, saying: "I've got 14 months of therapy guaranteed, but if I need it afterwards I can still have it.
"People have had a lot of bad things to say about them and they might have upped the aftercare, but it's the same team who've worked on the show for five years. I don't agree with the criticism – they are amazing."
The suicides of former Love Island contestants Sophie Gradon and Mike Thalassitis has drawn criticism and increased scrutiny on ITV over the aftercare of the show.
The broadcaster recently announced a more intense duty of care process for participants on the show, including a minimum of eight therapy sessions.
According to Hart, all the contestants were briefed on the pressure of fame they would face when they exit the famous show, saying: "They told us, 'You might be a star, but you might not'.
"'Be aware you won't be able to go back and work at Tesco afterwards because everyone will know who you are – your work life will change'. We were all very aware."
Amy later blocked the words 'fat' and 'ugly' from appearing on her social media feed, but doesn't regret leaving despite the trolls.
She said: "When you're thinking rationally you'd think this was all so stupid but it's such a pressurised environment in there.
"Before leaving I just sat there and thought, 'There are 17 other people in this villa but I am so lonely'. I went to the Beach Hut and just sobbed."
She's got job opportunities coming out of her ears now, at least, with Loose Women calling her up to be a permanent guest panellist;
I mean most people get flowers and chocolates for their birthday but… absolute dream come true! Thank you @loosewomen I won't let you down https://t.co/Jby4FxLPEA

— Amy Hart (@amyhart1707) July 17, 2019
"Derry Girls' Nicola Coughlan said that Richard Curtis, creator of Notting Hill, texted her saying, 'I never believed in the saying it's better to have loved and lost than never to have loved at all, until I watched Amy leave Love Island'".
"The king of romantic comedy! I made him believe in love," she adds, saying that she hasn't been disheartened from finding love again. David Walliams even slid into her DMs, which is an achievement.
The forgiving nature of women has also been commented on by fans;
"'Yes, 100% we shouldn't have blamed ourselves. But I was willing to hear all of that and work on myself to make it work," she says. "I did feel humiliated."
Her forgiveness of Curtis has moved on to unconcealed frustration, saying, "We've seen two different people in that villa, the Curtis that I knew and the Curtis now. I don't know which one's real, because they can't both be."
Amy has wisely decided not to watch Love Island, but she's aware that Maura and Curtis got together just days after her exit. Maura, she says, definitively does not follow Girl Code;
"The thing with Maura is that she has an ever-changing definition of Girl Code. She constantly moves the goalposts to suit her situation. And then suddenly she decided we were never friends. And I will maintain this forever: we weren't best friends but we did have a close friendship."
When asked if she's have happiness for Curtis if he wins the show, Amy replied;
"If I say no that will be the headline!" she says. "If he's happy I'm happy. If he's happy and they win that's fine. No one will beat Tommy and Molly, though I really want Anna and Jordan to win."
Unfortunately, Anna and Jordan have been in the bottom three multiple times and now Jordan's head is getting turned by India, who is coupled up with Ovie. So that ship has most likely sailed…
Feature image: Instagram/@brett_d_cove