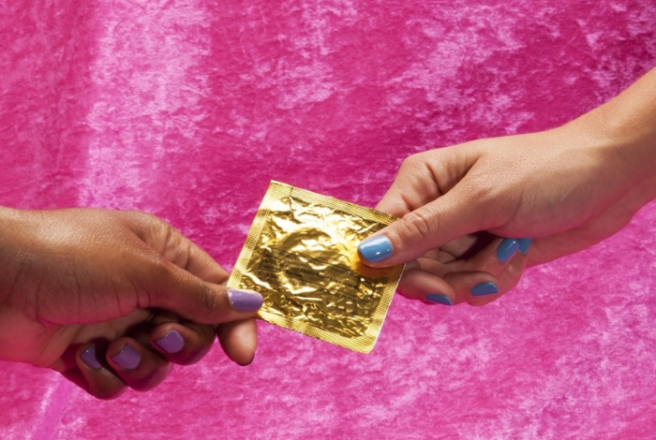 Condoms have been around for decades, and now you can even buy all types of styles- ribbed, flavoured, heated, extra-thin etc.
It can slip everyone's mind that they help prevent unwanted STIs and pregnancy, particularly when you're about to get frisky with someone and they decline the condom offer.
We've heard the excuses before; "I'm too big to wear a condom", "It doesn't feel good", "It just falls off", "I can't orgasm while wearing one".
Blah, blah blah; the contraceptives available for women can cause long-term health issues, changes their entire hormonal system, often induces anxiety, migraine, dizziness or causes spotted bleeding.
The list of side effects goes on, but men often say no to a simple condom. The excuses often aren't valid, so tell your boy to wrap it up stat. Luckily for him, we've got a hack to help ease any discomfort.
Cosmopolitan's sex researcher Maureen Miller, PhD, offered some advice;
"Add a few drops of water-based lube to the inside of your condom before you put it on. Men report being amazed at how much better it feels." SO SIMPLE.
Many condoms come with lubrication on the outside, adding just one or two drops into the tip of the condom before putting it on and rolling it down can make the world of difference for a guy's comfort.
If lube feels unreal for you, we're fairly sure it'll feel great for him too. You only need to add a little bit of lube, however. Too much will make the condom more susceptible to falling off.
Anti-baby note to remember: Oil-based lube can break the condom or thin the walls, so if you're not on any other contraceptive, make sure it's water-based lubricant. We recommend the YES brand.
"Condoms are mighty hard to break, although not impossible. The number one reason for condom breakage is that the condom was not put on properly," Miller says.
"The tip must be squeezed as the condom is being rolled down the penis so that there is room for ejaculate. Otherwise, the condom can burst," she adds. Remember: Safe sex is hot as f*ck.
There are plenty of ways to make putting on condoms super sexy; "Using your mouth, tongue, and hands, make the project of putting on a condom really erotic." Damn, we need to try this.