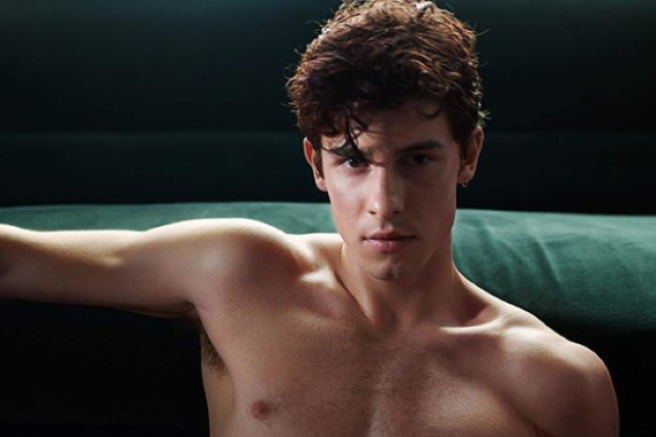 You haven't seen true thirst until you've witnessed the fan response to the new Shawn Mendes x Calvin Klein collaboration.
The Stitches singer has recently embarked on a world tour since releasing his new album, and is taking the globe by storm with endearing personality.
Those abdominal muscles are obviously having some kind of witchcraft effect on his followers, we think a few ambulances may need to be called after the #MyCalvins campaign dropped…
Had such an amazing time shooting this campaign @calvinklein #MYTRUTH #MYCALVINS pic.twitter.com/U1YD69I0x5

— Shawn Mendes (@ShawnMendes) May 9, 2019
The video has been viewed over 400,000 times and his Instagram images have garnered over six million likes already. My God, the lad is popular enough with his shirt on, so this is just explosive.
The video shows lil baby Shawn talking about "his truth," which is the slogan for the campaign, alongside Billie Eilish clips. It's fairly cute, we have to say, and features Mendes maturely discussing his vulnerability as a young rising star:
"I think the real strength is putting yourself out there, whether that's in your music or just in life in general. I'm vulnerable, and I think that's a good thing." Slay that toxic masculinity, young grasshopper. Fight the patriarchy.
We're highly entertained by the fan response on Twitter, so we've picked out our favourite comedic tweets for your viewing. We hope you laugh as much as we did…
1. Statue of SLAY-vid…
Shawn Mendes' Calvin Klein campaign be like : pic.twitter.com/oI9KvBEZnO

— Alison (@Londonarryy) May 9, 2019
2. 'The Gays' are hyperventilating
The gays' collective response after Shawn Mendes released his new set of Calvin Klein photos today pic.twitter.com/PxfzSiaJKn

— Patrick LeBeau (@PatrickLeBeau94) May 9, 2019
3. While some fans claimed that their ovaries exploded, others just jumped straight to immaculate conception:
Me after seeing Shawn Mendes' photo shoot for Calvin Klein pic.twitter.com/4rY6PHXaRh

— Hannah Rodriguez (@HannahR50289587) May 9, 2019
4. Even his fellow celebrities couldn't handle the heat;
Check out comments on @ShawnMendes' Calvin Klein photos from @JohnMayer, @TeddyGeiger, @RyanTedder and Demi Lovato pic.twitter.com/Sduq7l2NhJ

— Shawn Mendes Updates (@MendesCrewInfo) May 9, 2019
5. The chap is trying to end our lives with nudity as his weapon:
I swear if these locals keep showing me Shawn Mendes In Calvin Klein underwear pic.twitter.com/yo21D0iLDV

— alissa neocity (@emoassnct) May 9, 2019
6. "My heart has had enough"…some fans had to resort to blocking him:
my heart has had enough pic.twitter.com/eacg9DBkMD

— Laurine (@iCatchShawn) May 9, 2019
7. The pain is too tangible for most followers:
me looking at all these new shawn mendes calvin klein pics #MyCalvins #mytruth pic.twitter.com/sraD1oCyf6

— (@cxcainan) May 8, 2019
8. ARREST THIS MAN:
Shawn Mendes should be in jail for all this Calvin Klein content. pic.twitter.com/Vjvbm0WNSZ

— Alex Goldschmidt (@alexandergold) May 8, 2019
9. Is there a doctor in the room?:
I at this time pic.twitter.com/nt5bFPkfvN

— Mr Mendes (@MrMendessss) May 8, 2019
10. Give a girl some warning please? Rude?:
i could have used a warning yk pic.twitter.com/QzKqc3tETs

— (@itsbasicallyvic) May 8, 2019
It's official: Shawn has no respect for his fans and simply wants them to die a death staring at him forever and ever Amen.
We're loving his interview for the campaign, though. He's grown up before our very eyes:
"No matter how much money you have, no matter how much anything you have you'll never be able to form into something you're not, so just be confident".
Feature image: Instagram/@shawnmendes