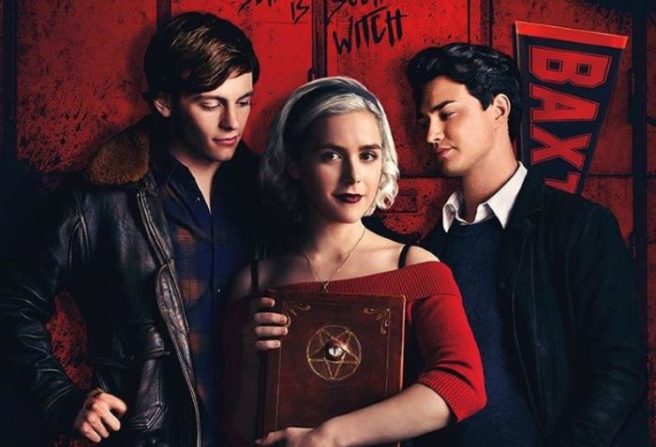 The first series of The Chilling Adventures of Sabrina was a long way from the 1990s TV show that we all loved so much.
But somehow, lead actor Kiernan Shipka transformed the role into her own and we fell in love with the world of witches and warlocks once more.
So the release of the trailer for the hotly-anticipated second series has arrived and we are BUZZING.
The trailer sees Sabrina embrace all of her dark gifts as she enters her high school, pours petrol on the floor and sets it alight.
The show hints that the main character is walking down a "darker path" after having a 'dark baptism' in season one.
A love triangle is also going to be part of this season as Sabrina is torn between her first love, Harvey Kinkle, and warlock Nicholas Scratch.
C'mon Sabrina, it's gotta be Harvey, right?
The official synopsis for the Netflix show says, ''Part two finds Sabrina exploring her darker side, curious to learn more about her heritage, while struggling to maintain her friendships in the mortal world. Romantically, Sabrina is caught in an unholy love triangle with between sexy warlock Nicholas Scratch and salt-of-the-Earth mortal Harvey Kinkle.''
It continues, ''Meanwhile, the Dark Lord, Madame Satan, and Father Blackwood continue to conjure chaos in the Spellman household and the town of Greendale. And they aren't the only ones trying to raise hell. Everything is in question…relationships, identity, true intentions…when the devil's work is at hand."
We have SO MANY goosebumps.
Fans were just as excited as us, with one saying, ''This season is going to be something wicked.''
While another wrote, ''Forget Satan…..Praise Sabrina.''
Part II hits our screens on April 5 so there's not long to wait now lads.