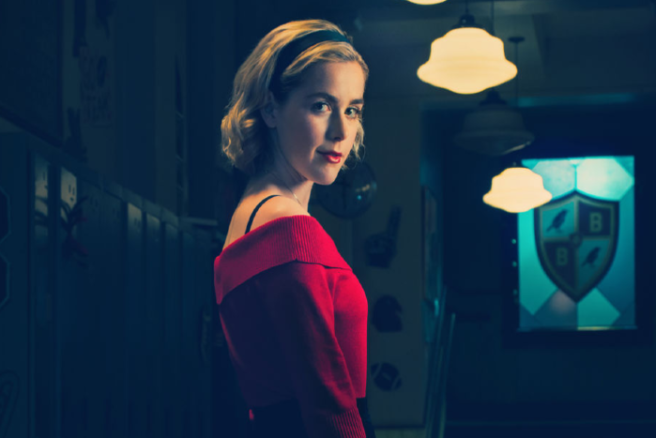 The Chilling Adventures of Sabrina has caused QUITE a stir since it exploded onto Netflix this year.
The series was ordered from Riverdale showrunner Roberto Aguirre-Sacasa as part of a two-season agreement, which means we are guaranteed more magic, more unreal characters like Ambrose and Harvey Kindle, and more unbelievably chic hairstyles.
I mean, her icy blonde locks at the end of season one? Slay much? Goals?
News has just hit that as well as season two premiering on April 5 2019, Netflix has renewed the show for at least two more seasons; this means sixteen BEAUT more episodes to be divided over seasons three and four.
We honestly can't get enough. Just hook us up to an IV of Ambrose's honey-toned voice saying 'cousin' on repeat.
Since the finale of season one, fans have been speculating what exactly is in store for season two.
WARNING: SPOILERS AHEAD.
Sabrina has now signed her name in the book of the beast, her hair has gotten lighter and her lipstick darker, Aunt Hilda's new beau is definitely malicious in some way, Principal Hawthorne is dead thanks to Madam Satan (AKA Lilith, mother of demons).
The cast have already filmed season two, with production beginning in March of this year. The seasons were filmed back-to-back, so they know everything that happens up until season three… please TELL US.
Season two will also have 10 episodes. according to Deadline.
Kiernan Shipka has also revealed to Bloody Disgusting in October 2018 that;
"Sabrina definitely changes and shifts a lot. Her growth is very evident and the second season definitely has a different spin on it than the first season. They are very different from each other."
Season two is set to pick up straight away from the endingof season one, and the mid-winter special has already aired.
Sabrina herself has claimed;
"I would just say that, without giving too much away, because it would be a bit of a spoiler, the way that Sabrina's life takes certain turns and certain decisions she makes inform the second season."
"The finale of the first season sets up a lot. It goes in a different direction. We see more different characters. It deals with a different side of things."
Filming, as per Shipka's Instagram and Ross Lynch's updates, wrapped in December 2018. There are also rumours that Salem might get his own special episode.
Speaking to IndieWire in October, the showrunner acknowledged Salem's history, saying; "We've definitely talked about doing a Salem-centric episode where we learn more about his life," RAS said.
Despite the fact that the kitty didn't have any dialogue in the first season, "That isn't to say that Salem won't talk in the future." Our ears are pricked, fam.
Season two is set to have some brand new faces added to the mix.
According to Deadline, actor Alexis Denisof (Buffy the Vampire Slayer and Angel) will play Mary Wardwell's boyfriend who returns to Greendale from abroad, but has no idea that his girlfriend is POSSESSED. Ooh, we are ready.
Jedidiah Goodacre (The Originals, Supernatural and The 100) plays Dorian Gray, a warlock who owns a nightclub called Dorian Gray's Room. Yep, it's a Oscar Wilde reference.
Get ready to binge season two when it's released on the first Friday in April, we CANNOT WAIT.
Feature image: Netflix