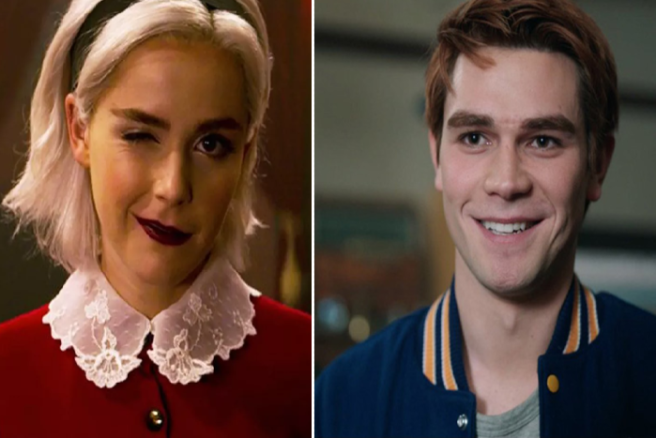 Kiernan Shipka's Riverdale crossover idea is SO PERFECT
The Chilling Adventures of Sabrina has us wrapped around it's teen-horror finger; we LIVE and breathe witchcraft and drama.
Of course, the show-runner for the Netflix show, Roberto Aguirre-Sacasa, is also the creator of Riverdale, and both shows are based on the classic Archie comics.
How great would it be if the two magical shows aligned? We'd be 100% here for it, that's for sure.
According to Shipka, spicing up the lives of Greendale's inhabitants would be easy for Archie Andrews; "My idea, personally, is that I think we need to get one of the Riverdale characters over on our show,"
A mash-up would make absolutely perfect sense since Greendale is actually Riverdale's neighbouring town, and both series' were adapted by the same person.
Just imagine the interactions, Ambrose and Jughead would be moody yet sassy BFF's, Sabrina and Betty would probably braid each other's hair, and Salem would be taken good care of by Dark Betty.
Anything is possible lads.
Shipka spoke to Entertainment Tonight about her simple yet effective idea for a Riverdale crossover;
"I think Archie should just wander over to Greendale. Like, he goes on runs. He's athletic. He can run into Greendale one day….Right?"
"I honestly think that Archie hopping on over into our show would be awesome. My main pitch is always that… Forget the Gargoyle King! What is happening in the town over?," she continued.
What would Sabrina order at Pop's Diner?
Would Sabrina and Archie have a romance plot, similar to the comics?
There are just SO MANY exciting things that could happen, fingers crossed that this actually happens.