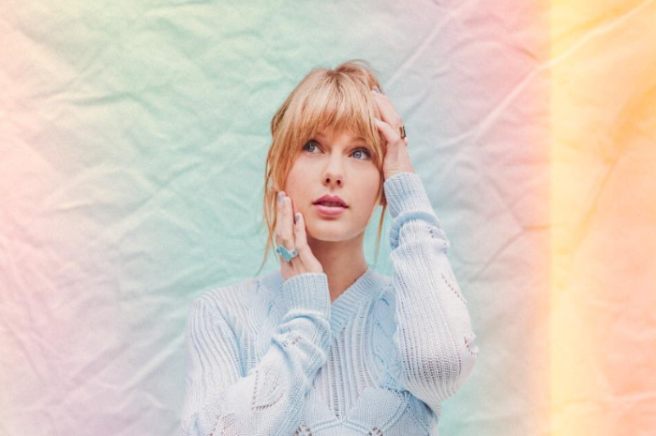 Well, well, well; those snakes have officially been BANISHED. That's right…Taylor Swift is back with a phantasmagorial bang.
Her new pastel-themed tune is called ME! and it's a beauty, as well as featuring the great Brendan Urie from Panic! At The Disco.
Rumours are flying that ME! was supposed to actually precede Reputation, but when sh*t went down with the media regarding the Kardashians and Kanye West, she decided to show her dark side first.
Our pal Taylor has been dropping hints for weeks about her latest musical endeavour, and the pastel colours hint at a return to her 1989 roots.
Fresh from her Time100 success, Swift's return show's yet another streak for mastering her personal marketing brand.
The video is adorable, and features a Parisian aesthetic with the pop star even speaking French at one point. Très bien henny. There's also a nod to Mary Poppins in there too, randomly.
The gal loves Easter eggs, and there's plenty of hidden meanings in the Dave Meyers-directed video.
One thing's for sure…TS7 is going to be MAJOR.
Here are Twitter's most outrageous reactions to TayTay's new music video:
1. Fans have been #attacked.
Taylor Swift releasing a song with Panic! at the Disco is a literal attack on my 15 year old white girl self

— Dana Schwartz (@DanaSchwartzzz) April 26, 2019
2. Brendan Urie in suspenders
u can hate taylor swift all u want but she got brendon urie back in suspenders dancing for the gays in a pastel suit so

— elijah daniel (@elijahdaniel) April 26, 2019
3. Spread the rainbow
#MeOutNow #TaylorSwiftTONIGHT @taylorswift13 @PanicAtTheDisco
nobody:

literally no one:

Taylor Swift and Brendon Urie:pic.twitter.com/rfA3naj1Am

— (@heybutterbear) April 26, 2019
4. This detective discovered a possible feature from the album;
OK, I'm pretty sure this is the Dixie Chicks on the wall. First single is a duet. New theory: the whole album is collabs, next single will feature Dixie Chicks. Maybe album is titled ME! and YOU!, you bring the duet partners. #TaylorSwiftTONIGHT pic.twitter.com/RqODTfos1o

— Brice Sander (@bricesander) April 26, 2019
5. Is she ENGAGED? Also we adore her kitty's cameos.
2 clues… Either @taylorswift has a new cat… Or she's engaged! @taylornation13 pic.twitter.com/bYj2eGW0w2

— cindy launspach (@claunspach) April 26, 2019
6. Her kitty fam possibly just expanded
@taylorswift13 's birth announcement for her new kitten is the kind of extra I aspire to be as a cat mom.

— Caroline (@CarolineSpringg) April 26, 2019
7. She has resurrected from the dead:
Swifties : Hello, is the old Taylor Swift on the phone?
Taylor Swift: Yes
Swifties:#TaylorSwiftME #TaylorSwiftTONIGHT pic.twitter.com/3M5VtYrjdD

— Nobody (@iAintUrBro) April 26, 2019
8. She's certainly changed her colour palette…
Taylor swift so far…. pic.twitter.com/YRPv8hoyAx

— VI (@inVYctus06) April 26, 2019
9. Reputation was dropping hints left, right and centre b*tches!
how dares taylor swift use a word as uncommon as "me" when she talks about herself I swear you're all mental SJDKSMOAJ pic.twitter.com/feBTzXnxLj

— (@anythingliketay) April 26, 2019
10. Swifties are incapable of remaining calm:
Taylor Swift drops her newest music video. #MeOutNow

us swifties: pic.twitter.com/FmTpCOgzq6

— Eugene (@EugeneCatalogo) April 26, 2019
11. Is Taylor supporting Brie Larson's Unicorn Store?
taylor swift says watch unicorn store on netflix pic.twitter.com/KuexybV7fh

— (@thorshope) April 26, 2019
12. She damn switched the light on:
Taylor Swift's evolution#TaylorSwiftIsBack #TaylorSwiftApril26 pic.twitter.com/h45FeRAIrn

— Shark (@AlienZonrox) April 26, 2019
13. Applicable to group projects, we think:
"girl there is no I in team, but you know there is a me." @taylorswift13 and @brendonurie describing all my team work and group projects… #MeOutNow

—(@definitelynofan) April 26, 2019
14. Her fans would die for her, but Instagram ain't having ih…
INSTAGRAM SENT ME THIS BC I SAID THAT I WANT TO DIE FOR TAYLOR SWIFT PLEASE IM SCREAMIH pic.twitter.com/ra69Boa42O

— (@magielindewoman) April 26, 2019
15. The feels are a little strong, to say the least:
STREAM "ME" BY TAYLOR SWIFT AND DADDY BRENDON URIE pic.twitter.com/OOBOfrNRkZ

— (@invisiblewhore_) April 26, 2019
At the moment, Taylor is currently on track to break the record for fastest music video to reach 100 million views on YouTube, after Ariana Grande's Thank U, Next and BTS' Boy With Luv.
It's surpassed 13 million views in just three hours, which is phenomenal.
Without further ado, here's Taylor's new video. Indulge in it, if you haven't already seen it. If you've already seen it, watch it again. It's worth it.
Feature image: Instagram/@swifties.jp