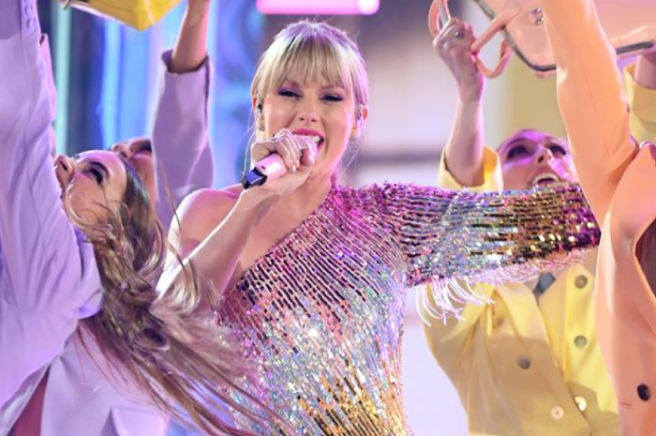 The Beyhive is buzzing, to say the least.
Taylor Swift opened the Billboard Music Awards last night with her new single, ME!. It was a colourful occasion, with Brendon Urie of Panic! at the Disco by her side.
There were rainbows, umbrella dancing, butterflies, hearts and general good vibes all round, but once aspect of her performance was noticed in particular: the marching band.
Taylor began the performance with a drumline, which SOME fans online are comparing to Beyoncé's iconic Homecoming show at Coachella.
Part of the Beyhive are throwing some major shade online right now;
TAYLOR SWIFT JUST BIT TF OUTTA BEYONCE ON THE BILLBOARD AWARDS … I'm where is the beyhive???? pic.twitter.com/hWvRcKK4an

— Jamilah Michelle (@jamilahmichelle) May 2, 2019
"TAYLOR SWIFT JUST BIT TF OUTTA BEYONCÉ" is a fairly extreme example, but others are saying that Taylor may have added the drumline on purpose to …drum…up some tasty drama and get everyone talking about her new song.
She is a marketing genius after all, let's not forget the entire Reputation build-up. Girl's got game.
Taylor Swift need to consult with Beyoncé regarding the marching band performance #BBMAs pic.twitter.com/jyVrCilkFb

— 3Y3SWIDE0P3N (@Neosoul1189) May 2, 2019
One fan even called it 'gentrification':
I don't know if y'all are seeing this but Taylor Swift is gentrifying Beyonce's Coachella performance right now

— Guide Lee (@Chuck_Des) May 2, 2019
Others are defending Swift's choice to include a marching band, pointing out that Beyoncé was not the first and won't be the last performer to include one;
Anyone who compare Taylor Swift to Beyonće, lacks brains. We take as a complement but there is litterlly NO correlation. MADONNA did the marching band first. #BBMAs #Homecoming pic.twitter.com/qwbky9dx8d

— Maria (@TS7Track09) May 2, 2019
"Madonna did the marching band first." The marching band on stage was actually first seen back in 1907, so, you know…not at Coachella last year…
Though, timing is everything. Taylor may have known that this would cause some smoke to breathe into the industry's air if she added the band TWO WEEKS after Homecoming hit Netflix. *strokes beard*
Beyoncé looking at Taylor Swift performance pic.twitter.com/g9PA1VtV7m

— Marley (@irondyketyson) May 2, 2019
We have to wonder: WWBS? (What would Beyoncé say?)
Girl, it's drums… Beyoncé wasn't the first to use drums in a performance and Taylor definitely isn't either. Beyoncé had a whole as band and Taylor had just drums. Y'all need to stop comparing the most general things just because you don't like Taylor. https://t.co/ORySBD7tQf

— tyler(@reputytion) May 2, 2019
Others are pointing out that TayTay gets served a LOT of sh*t in the media, and that nothing good ever comes from comparing two powerful, successful women with VERY different musical styles.
Try telling the Beyhive that….we're still reading the Tweets though aren't we? They're gas.
twitter's wild because there are ppl on here saying Beyoncé didn't invent marching bands and we all saw when she did

— (@desusnice) May 2, 2019
*Sighs*
Beyoncé's Homecoming changed pop culture forever and ever Amen, so it's no wonder people can't seem to stop talking about it.
We're sure Taylor is doing her best to ignore the internet furore, or maybe she's delighted that her performance is now trending on Twitter?
Like we said; She's a genius.
Feature image; Usa online journal