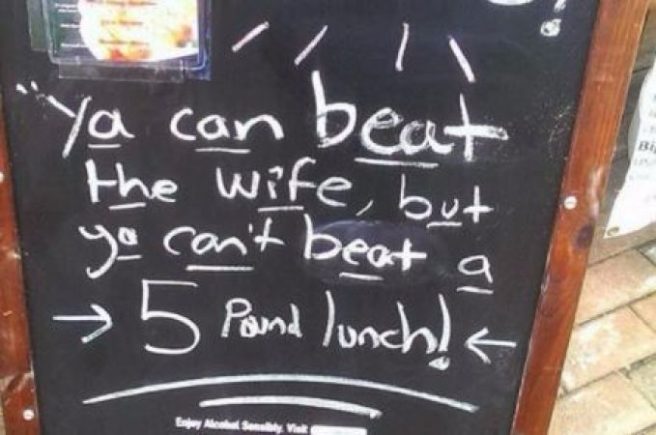 A restaurant in Belfast has issued an apology after a sign promoting their lunch-time deal was the subject of intense criticism in recent days.
Ribs and Bibs on Botanic Avenue promoted their £5 lunch with a distasteful reference to domestic abuse in a move which has understandably caused a furore on various social media channels in recent days.
"Ya can beat the wife, but ya can't beat a 5 pound lunch" read the controversial sign.
Members of the public who came across it wasted no time urging the restaurant to explain itself, with one social media user writing: "Why does ribs and bibs on botanic avenue think this sign is ok? Its horrific and makes light of an issue that's killing people."
Apparently, domestic abuse is SUCH fun. #ribsandbibs Take yourself back to when hitting women was funny. Oh, wait – it's never been funny. https://t.co/71h35kvzs1

— Ali (@theweeAliC) September 26, 2017
Make everyone you know aware not to fucking go near Ribs and Bibs on Botanic. Scumbags. pic.twitter.com/rMDvIgM206

— Eimear Teague (@EimearTeague) September 26, 2017
A post on the restaurant's Facebook page suggested that they were refusing to take the public's distress seriously, with their reply only serving to further raise the ire of social media users.
"My God mate, get a life, it's a bit of wit on a small board outside a restaurant, we're not putting it on the front page of a newspaper, not making a move, see it for what it is, not as you see it," Ribs and Bibs wrote in a Facebook reply.
However, as criticism surrounding the promotion intensified, Ribs and Bibs issued a formal statement, and claimed that the individual responsible for creating the sign was new to the team.
"See it for what it is.." = Making a mockery of victims of domestic violence to sell fast food.

Avoid #RibsandBibs if you live in Belfast. https://t.co/Hdhu0stbCu

— Fiona McAuley (@FiFiSG) September 26, 2017
"We do not condone abuse on men or women and the member of staff has only been working with us a couple of weeks and was on shift today by himself."
"We are dealing with it and would like to apologise for any offence caused and it will be dealt with by the management team."