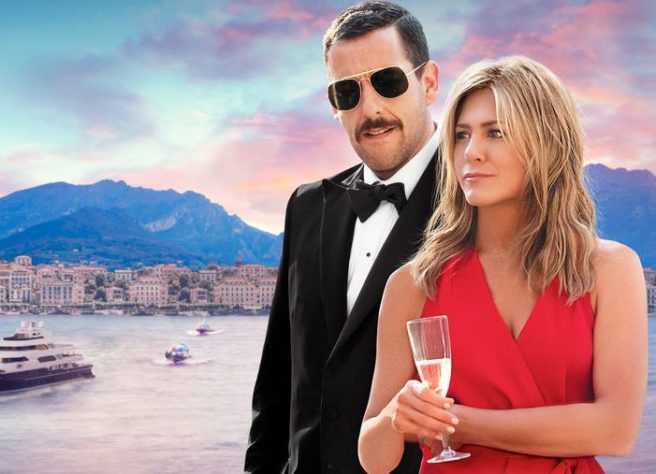 Jennifer Aniston and Adam Sandler pair up again for a rom-com-mystery that's an exaggerated version of an Agatha Christie whodunnit.
The setting is a yacht, there is an array of stereotypical characters (a glamorous Hollywood actress, a colonel, a famous racecar driver) and a murder victim that any one of them could be responsible for.
It has been announced that it is the biggest opening weekend for a movie on Netflix – not bad, right?
ADAM SANDLER AND JENNIFER ANISTON BREAKING NEWS ALERT

30,869,863 accounts watched Murder Mystery in its first 3 days – the biggest opening weekend ever for a Netflix Film. 13,374,914 accounts in the US and Canada, and 17,494,949 more worldwide.

— Netflix Is A Joke (@NetflixIsAJoke) June 18, 2019
The reviews have been varied – and look, some people are gonna see Adam Sandler and sh*t on it without watching it.
I've seen it and I would recommend giving it a chance – it's the kind of thing that's made for a Sunday afternoon when you're feeling a bit fragile.
You see, the movie does what it says on the tin.
It doesn't pretend to be a high brow piece of cinema but an easy-watching spoof on the murder mystery genre.
And that's why I liked it – the two leads have good chemistry and the fact that they're old friends stands to them as their marital bickering is believable.
They play Nick and Audrey Spitz, a New York couple who are going on their honeymoon to Europe 15 years after they wed.
Things become interesting when the gorgeous Luke Evans as debonair Charles Cavendish invites them to his yacht.
Here, his uncle Malcolm (the legend that is Terence Stamp) has married Charles' former love and he is signing his new will and giving everything to her.
He's murdered before he can – and everyone on board is a suspect.
There is a cast of ''I've seen them before'' type of actors – we have Gemma Arterton, David Walliams, Adeel Akhtar, and Dany Boon.
Not to mention the stunning locations that serve as backdrops – Monte Carlo, Monaco, and Lake Como.
There are funny moments and enough action scenes and twists and turns to keep viewers happy.
I couldn't guess who the culprit was – however, it does take about 20 minutes to start and it's quite sluggish until they get off the plane.
So, if you find yourself with an hour and a half to spare, watch it yourself and see.