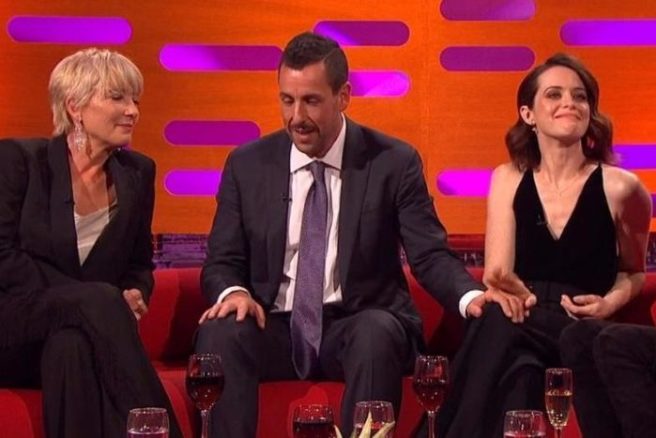 Graham Norton viewers slam Adam Sandler's 'uncomfortable' behaviour
Adam Sandler has been criticised following an "uncomfortable" interview on The Graham Norton Show this week, during which he repeatedly put touched British actress, Claire Foy.
Viewers of the show took to Twitter to express to express their discomfort after the US actor placed his hand on Claire's knee as he told an anecdote about a trip with his parents.
Despite the actress appearing to squirm at the first touch, Adam once again reached over to rest his hand on her knee for a number of seconds.
Emma Thompson, who was also a guest on the show, seemed to be quite aware of the fact that the actor was acting inappropriately and appeared to glare at him until he removed his hand.
According to The Independent, a spokesperson for the married father-of-four described his actions as "a friendly gesture" – but rather unsurprisingly, not everyone interpreted them this way.
Adam Sandler has no social awareness of how awkward he seemed to be making Emma Thompson and Claire Foy #stoptouching #GrahamNorton pic.twitter.com/fKNin1aAof

— Michelle Marsh (@michellelmarsh) October 28, 2017
adam sandler acted like an entitled creep. you would think after his hand politely removed once, he would have got the message.

— luv (@londonxbaby) October 29, 2017
Claire Foy replacing Adam Sandler's hand onto his own knee rather than hers, was the perfect "haha dont touch me again" move #GrahamNorton

— Gwyneth Jane (@gwynethjane_) October 27, 2017
@AdamSandler Next time you feel the need to touch someones knee..make it your own!

— V (@skylar00011) October 29, 2017
However, despite heavey criticism, many viewers jumped to the actor's defence, insisting his actions were harmless.
Feel sorry for Adam Sandler and I think this is going a bit to far now he touched her knee.

— Mark Sullivan (@MarkSul59667597) October 29, 2017
Sorry but WTF at people calling Adam Sandler "sexually inappropriate", ? Claire Foy made it awkward. A classic case of OTT feminism!

— BEA (@beamor93) October 29, 2017
#GrahamNorton Adam Sandler pats Clare foy's knee = twitter meltdown but photo oggling of Rhiannas cleavage is ok? Double standard??

— Janet Lewis (@janolachoo) October 29, 2017
@AdamSandler affectionately putting hand on a knee is NOT SEXUAL HARASSMENT. This is getting out of hand as a woman I am mad

— Pam Branch (@PamBranch11) October 29, 2017