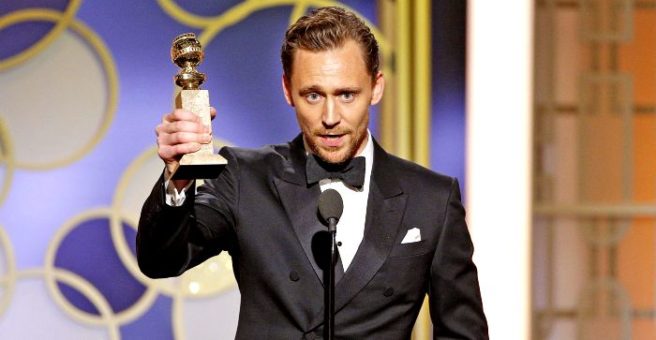 2016 was quite the year for Tom Hiddleston.
Not only was he in THAT infamous relationship with Taylor Swift, but he also killed it in The Night Manager, the creepy spy drama that entranced us all.
So, it's fair to say that he deserved his Golden Globe win on Sunday night.
However, his acceptance speech was… well, it was just plain awkward.
Many took to Twitter to argue that he sounded very self-righteous, speaking about how he visited South Sudan, where all the humanitarian aid workers watched his TV series.
"They were a group of MSF doctors and nurses, and they wanted to say hello because during the shelling the previous month, they had binge-watched The Night Manager."
Christian Slater's face listening to Tom Hiddleston's "people in South Sudan love me" speech should be on US currency. pic.twitter.com/8HbZScXbH2

— Mike Ryan (@mikeryan) January 9, 2017
Naomi Harris expression listening to Tom Hiddleston 'white savior of Sudan' speech is priceless #GoldenGlobes #hiddenfences pic.twitter.com/CA7X5AgxhX

— VzA (@ValerieComplex) January 9, 2017
TOM HIDDLESTON: Listen to my speech about Sudan
AUDIENCE: Okay
HIDDLESTON: …and how it proves my TV show was good.
AUDIENCE: Oh no.

— Freddie Campion (@FreddieCampion) January 9, 2017
But last night, Tom took to Facebook to apologise for his ill-sounding speech, saying that he agrees with everyone, and his thoughts were "inelegantly expressed."
He wrote: "I just wanted to say… I completely agree that my speech at the Golden Globes last night was inelegantly expressed. In truth, I was very nervous, and my words just came out wrong.
"Sincerely, my only intention was to salute the incredible bravery and courage of the men and women who wore tirelessly… and the children of South Sudan, who continue to find hope and joy in the most difficult conditions.
"I apologise that my nerves got the better of me."
We'll let you away with it this time, Tom!