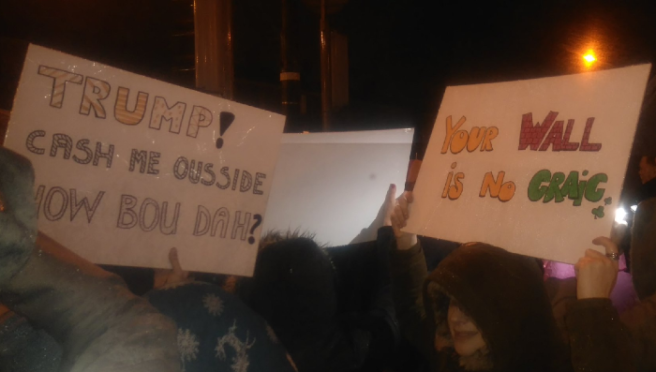 Despite the wind and rain, hundreds of people protested against US President Donald Trump's immigration ban last night.
The United Against Racism protest occurred outside the American Embassy in Dublin's Ballsbridge.
Big crowds out for Trump Protest at US Embassy. pic.twitter.com/St2HpmkeJ6

— Katie O'Neill (@_Katie__ONeill) February 2, 2017
Members from the Labour Party, The People Before Profit Alliance, the Green Party and Amnesty International were all present.
Richard Boyd Barrett of the Anti-Austerity Alliance has called for another protest outside Leinster House next Thursday.
If the protest goes ahead, it will occur while the Dail is in debate.
Great to see such an amazing crowd and to listen to very inspiring speakers at the protest against #Trump ban at the US embassy in Dublin pic.twitter.com/4KjavrjMJb

— Razan Ibraheem (@IbrahRazan) February 2, 2017
"US immigration at Dublin and Shannon are operating Trump's ban on people from seven Muslim countries," reads the Facebook event which helped to organise the relly.
"There are already many people stuck at various airports accross the world. People arriving to US airports are detained by the immigration departments."
"The US Embassey in Dublin has confirmed that Donald Trump's executive order of a 90-day ban on people from seven Muslim countries entering the US is in operation at Dublin and Shannon Airport."
Around 120 people attended a similar protest at Shannon Airport.