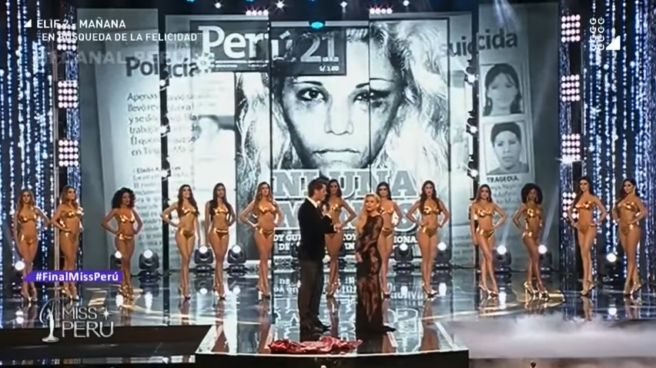 Earlier this year, it was reported that Peru has seen a whopping 26 per cent increase in complaints about gender violence between January and April 2017.
The massive surge prompted the country's Minister for Women and Vulnerable Populations, Ana Maria Romero-Lozada, to call for a system reform so that gender crime reports could be properly dealt with.
"We don't want to send a lot of people to jail, but if someone must go, then he should go," she said.
The growing issue has sparked a wave of feminist protests across the South American nation, and now, contestants of the Miss Peru beauty pageant have spoken out.
During a segment in which the women are usually required to announced their measurements (bust, waist, hip) to the audience, competitors instead used their moment on stage to share a number of facts and statistics about the country's gender violence problem.
One contestant said: "My name is Juana Acevedo and my measurements are: more than 70 per cent of women in our country are victims of street harassment."
Another added: "My name is Luciana Fernández and I represent the city of Huánuco, and my measurements are: 13,000 girls suffer sexual abuse in our country."
Event organisers also displayed a selection of newspaper clippings reporting on cases of murdered and assaulted women during the swimsuit section of the competition.
In the final segment, contestants were asked what laws they would change in order to prevent violent crimes against women.
You can check out the full show below: