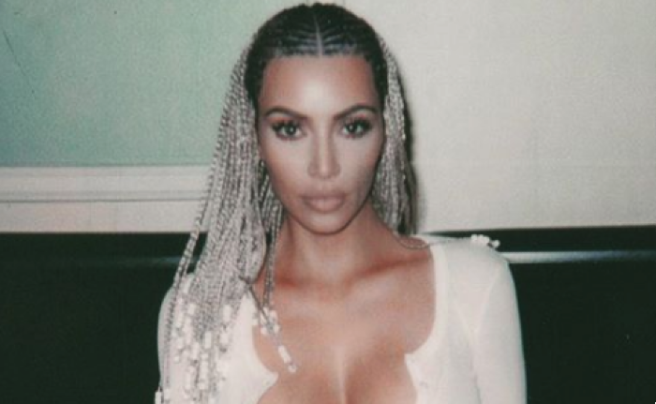 Kim Kardashian has been causing quite a stir on social media for the past 24 hours.
The reality TV star has been posting a series of images from a recent photoshoot, which include a number of topless photos.
Kim has been very vocal in the past about her thoughts on the policing of the female body, and the fall out from this shoot has been no different.
Hi, can I get zero fucks please, thanks pic.twitter.com/svo3tewQC8

— Kim Kardashian West (@KimKardashian) January 30, 2018
Many fans and critics shamed Kim for the images, claiming that as a mother of three she should not be presenting herself in such a sexualised manner.
One picture in particular, which shows Kim naked except for thong underwear and an open fur coat, has come under the most scrutiny due to the semi- visibility of the business mogul's nipple.
Kim has clapped back, posting another snap from the shoot to Twitter, with the caption: 'Can I get zero f*cks please?'
The photo has over 3.5 million likes on Instagram.
One celeb has commented on Kim's raunchy look.
Lindsay Lohan commented under a pic of Kim posted by Perez Hilton, saying: 'i'm confused.'
Never one to pull any punches, Kim retorted: 'You know what's confusing… your sudden foreign accent.'
The NSFW shoot has been a bone of contention among Kim's fans, with some congratulating her for celebrating her body in whatever way she sees fit, while others are less than impressed.
'Your really overdoing it now,' said one Twitter fan. 'And it's sad because I used to look up to you.'
'I know you could care less but why ? Why are you showing women that they should show their bodies like the way your doing?'
— Kim Kardashian West (@KimKardashian) January 29, 2018
'Why does her naked body make you not look up to her?? and why SHOULDNT women show their bodies?? is the female form THAT offensive?' responded another.
Kim has never been shy about sharing her naked image with fans.
The children's clothing designer previously lashed out against criticism of her nude pics, writing a post on her website saying:
'I don't do drugs, I hardly drink, I've never committed a crime—and yet I'm a bad role model for being proud of my body?'
'It always seems to come back around to my sex tape. Yes, a sex tape that was made 13 years ago. Let's move on already, I have.'
'I am empowered by my body. I am empowered by my sexuality. I am empowered by feeling comfortable in my skin.'
'I am empowered by showing the world my flaws and not being afraid of what anyone is going to say about me.'
'The body-shaming and slut-shaming—it's like, enough is enough. I will not live my life dictated by the issues you have with my sexuality.'
'You be you and let me be me. I am a mother. I am a wife, a sister, a daughter, an entrepreneur and I am allowed to be sexy.'
Hear, hear Kim.