Everyone's jetting off on their holidays all of a sudden, and we can't help but look out the window wistfully as we sit here at home.
If you're also green with travel envy though, never fear. No longer will you have to look at your friends' Insta posts wishing you were travelling the world, too.
Thanks to cheap-ish flights and the beauty of our European neighbours, you can still go on those last-minute trips.
Here are our top picks for Airbnb homes in Madrid, Budapest, Rome, and Edinburgh.
Madrid
NEW Remodel Madrid Sol downtown duplex €63 p/n
This chic apartment is nestled in the heart of Madrid, near plenty of the Spanish capital's main attractions.
The flat can accommodate two guests and is exquisitely decorated – perfect for the cosmopolitan traveller.
Private Studio in Sol, Madrid €80 p/n
If you're looking for a place steeped in history, this is it. This antique apartment was built in the 17th century but has been refurbished in a modern style.
The studio fits four guests, has two large balconies to enjoy, and is just a stone's throw away from Sol Square.
Budapest
Best panorama, great location on Buda side €48 p/n
This one-room flat offers a gorgeous view of the Danube and Chain Bridge.
The cosy apartment suits two guests and the hosts hope that, while everyone may arrive as strangers, they leave as close friends.
Rooftop Atelier Apt.- Cozy & Lovely €50
A mere five minute walk away from the lively bars and restaurants of the Jewish Quarter, this cute apartment is a lovely home away from home.
Sleeping up to three guests, the balcony opening onto a courtyard is just one of the many touches that make this a memorable place to stay.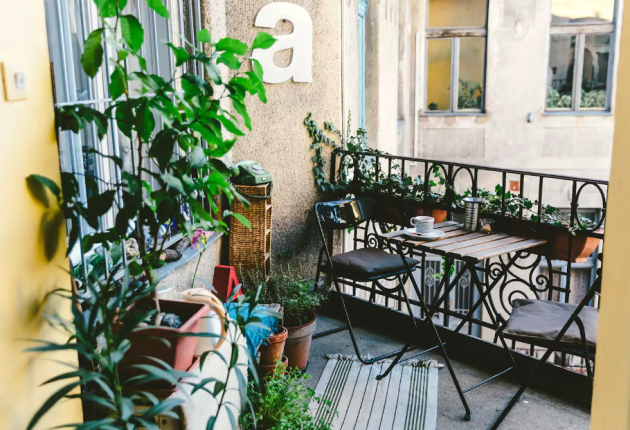 Edinburgh
Converted factory with parking €103
This flat is the perfect place for you and three of your friends to enjoy the bohemian Stockbridge neighbourhood.
As well, the funky industrial-style apartment is within walking distance of Edinburgh city centre.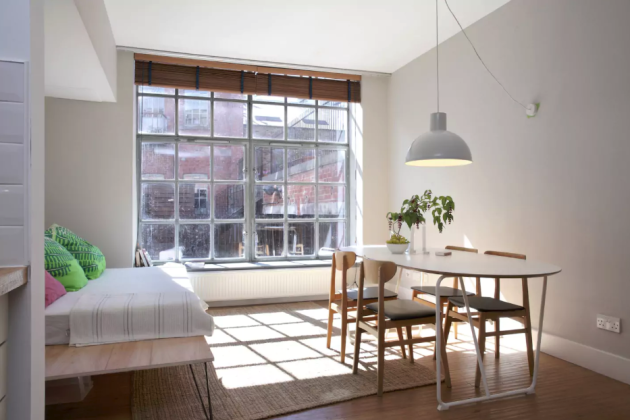 Quiet, bright apartment with free parking space! €62 p/n
Tucked away in a family-friendly neighbourhood, this place is so lovely with its bright pops of colour and eclectic decor.
City centre is a walkable distance away, and there are plenty of amenities nearby for the four guests staying in the flat.
Rome
PignetoRhome: Casetta Allegra €40 p/n
By far the highlight of this cosy attic home is its rooftop with an amazing terrace. Just imagine sipping an espresso up there in the morning!
The apartment fits two guests and is quite close to public transport lines.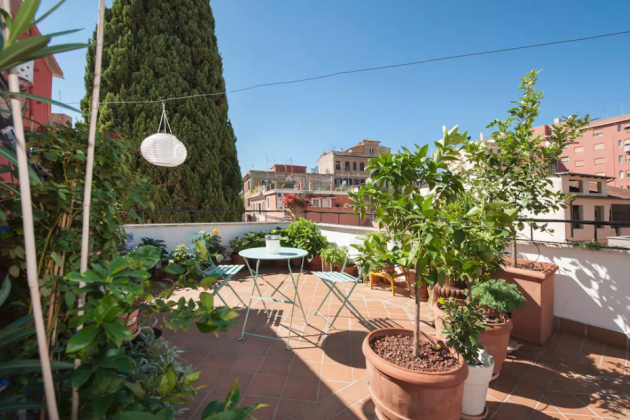 Loft Garden San Lorenzo €45 p/n
We are simply in love with this apartment situated in the historical San Lorenzo neighbourhood.
Besides its beautiful retro decor, the flat also boasts an outdoor courtyard and has enough room for you and five friends.