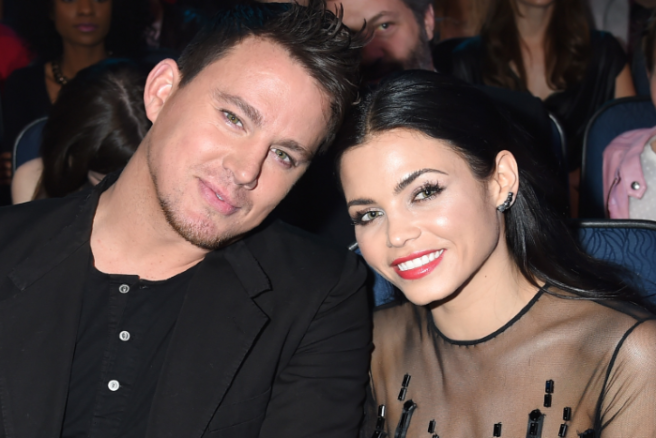 In case you've been living under a planet-sized rock, you just MIGHT have heard about Channing Tatum and Jessie J's new romance.
The pair appear to be exclusive, with Tatum making numerous appearances at the British singer's gigs, and was present at her London show last night where she emotionally revealed her infertility.
One thing which has been plaguing fans and speculators all over the internet is the uncanny resemblance between Jessie J and Channing Tatum's ex-wife of over ten years: Jenna Dewan.
The actress only just filed for divorce from Tatum last month, after six months of separation, and both actors appear to have well and truly moved on.
It has to be said that Dewan and Jessie J look RIDICULOUSLY alike, leading fans to conclude that Channing Tatum very clearly has a type.
Apart from being startlingly beautiful and both having names which begin with J, Jenna and Jessie both have similar face shapes, skin tones, fierce eyebrows and shoulder-length dark brown hair, so it's hard not to compare them.
Jenna Dewan and Jessie J look alike. Someone's got a type, Channing Tatum (Not that I'm one to talk, I know…)

— cherrytrants (@cherrytrants) October 12, 2018
After attending the Baby2Baby gala on Sunday night, one of Jenna Dewan's followers commented on her post:
"FIRST OF ALL…whenever I hear of the 'striking resemblance' w/ Jessie J and Jenna Dewan my only thoughts are ummmmm no…not even close, and I don't have a horse in the race but gf you are untouchable."
"Just trying to spread positive vibes, keep doing you…to an absolute outsider from a small town do are doing it seemlessly."
The dancer and actress responded with her own comment on the matter: "Positive vibes all the way." Oh, there was a kiss emoji too, let's not forget that part.
She doesn't seem to be rising to the media frenzy surrounding her ex-husband's love life, or the doppelgänger claims between her and Jessie J.
However, while many assume that Dewan must be finding the media attention surrounding her divorce difficult, Jenna has a romance of her own.
She has been happily dating Broadway star Steve Kazee for a few months now. We wish both couples all the happiness in the world.
Feature image: elle.ua