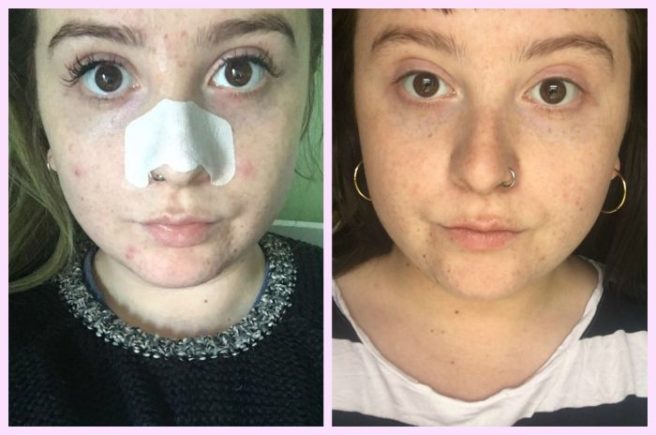 This cleanser took my skin from acne ridden to clear AF – for €15
When I was a teenager, the time when your skin is meant to be as stroppy and hormonal as you are, I was pretty much acne free.
Other than the odd stand alone spot here and there brought on by a penchant for chemical-laden makeup wipes, I was usually in the clear as far as my skin was concerned.
Once I went to college, things started to change. After starting on hormonal contraceptives and living the typical work hard, play hard uni lifestyle, breakouts were cropping up more and more often all over the plains of my face.
2017 – my 'usual' skin
It wasn't just a trio of spots here or there, it was an ever-changing constellation of angry, cystic blemishes along the sides of my chin, red pimples across my cheeks and bumpy, haphazard arrangements of spots between my eyebrows and down my nose.
My skin was unhappy, and so was I. Makeup couldn't even cover up the huge welts on my chin and cheeks, and slathering them with concealer made them look even worse.
I went from being someone who just threw some concealer under my eyes for lectures to feeling like I couldn't leave my apartment without a full face of cosmetic intervention.
It was taking a huge toll on my self esteem. Every time I would meet and talk to new people, I would think they were staring at my chin wondering what the hell was up with my skin. I was de-tagging pictures on social media left right and centre, and I was desperately eliminating diary and gluten and sugar from my diet and popping multi-vitamins hoping something would change.
Mario Badescu €17.95, Sudocreme €2.50
I tried quite a few different methods to rid myself of my new affliction – I would go to bed with Sudocreme covering more areas of my face than not thanks to the amount of spots I had.
I tried painful extraction facials, those viral black pore masks, and even the Kardashian's favourite Mario Badescu Drying Lotion (which, to be fair, worked pretty well on drying out existing spots but didn't do much in terms of preventing new ones),
My spots weren't found to be medically severe enough to be considered inflammatory acne, so after being denied a prescription for acne ointment, I went so far as to buy Duac, a medicated gel containing Benzoyl Peroxide from a shady beautician.
The Duac worked, but surprise surprise, it was way too harsh for my skin and left red scaly patches in it's wake, which would get so irritated they would create huge, dry cystic spots.
I really REALLY didn't want to share this picture with the internet, but it's the only one I have that actually shows how severe the blemishes could be (at this point I was avoiding taking pictures of myself because of my skin).
I remember taking this picture in a train station and sending it to my friend, saying I really wished I hadn't ventured out in public without makeup, but at this point my skin was so painful that applying makeup was a traumatic event.
You can see on my chin the welts being left by my violent attempts to chemically get rid of my spots, and my eyes are slightly swollen as my whole face was inflamed.
I decided that I needed to reevaluate my entire method of addressing my skin issues.
Rather than trying to harshly remove the spots I had, I thought that I should look at what I was using on my skin in the hopes of keeping my skin clear and preventing new spots forming.
I was a micellar water gal through and through, using the product to clean my face in the morning and wash off my makeup at night. I had been lured in to thinking the product was skin-healthy because, it's just like, water right?
However, after exploring a few skin forums online and listening to the advice of some dermatological bloggers, I found that perhaps micellar wasn't suited to my skin after all.
Cetaphil Gentle Skin Cleanser €14.99
I had always been huge fan of The Skin Nerd, so I ordered three of her Cleanse-Off Mitts. I started using the now staple blue mitts to remove my makeup rather than disposable cotton pads, and saw an instant difference, with my skin looking brighter and cleaner with empty pores, but the spots were still coming.
I wandered into the pharmacy section of Boots searching for a gentle, simple skin cleanser.
There on the shelf, in it's medical-looking white plastic bottle, was Cetaphil Gentle Skin Cleanser. Seduced by the label's promise of 'gently removing what your skin doesn't need, without stripping away the skin's natural protective oils, and without disturbing the skin's natural pH balance,' I popped it in my basket.
I dumped every face mask and skin cream I had in my bathroom that didn't proclaim to be gentle on the skin, and started using Cetaphil every day.
In the morning, I'd take it into the shower with me and use a pump and my bare hands to wash my face, and at night I'd take a few more pumps of Cetaphil and warm water onto my Cleanse-Off mitt to remove my makeup and deep cleanse my skin
Almost instantly, my skin wasn't irritated anymore, red patches started to fade, and the spot production was slowing down – rather than try and describe the difference to you, I'll show you.
On the far right is my skin today, a picture taken this morning after a good wash of my face using Cetaphil. In the middle, is my skin after about three weeks of my new routine, still a few spots on the cheeks and bumps on the forehead, but no cystic eruptions on my chin and jaw.
And on the left, the picture that will undoubtedly haunt me, my skin as it was. It took about four months to achieve this difference in my skin using natural, gentle products, after around four years of fighting my skin with harsh chemicals.
I still get the odd spot here and there, but they're no longer painful, angry boils of things – they're just normal clogged pores from sleeping in makeup or tucking in to too much cheese.
Switching over to Cetaphil changed so much in my routine – I try and keep things as simple as possible when taking care of my skin. For further spot prevention, I'm fond of doing a tea tree mask once or twice a week.
Tea tree has antibacterial and antimicrobial compounds that help prevent sore breakouts. I picked up a really affordable one in Supervalu for less than two quid. I slather on the Beauty Formula Australian Tea Tree Cleansing Facial Mask about twice a week, leaving it on for 20 minutes and then washing it off in the shower with Cetaphil Facial cleanser.
To keep my skin hydrated, I took the advice of a Parisian colleague with flawless skin and adopted some French pharmacy skincare into my routine. On a recent rip to Paris, I picked up the Embryolisse Lait-Creme Concentre, a light multi-functioning moisturiser that can double up as a primer to protect skin under heavy makeup.
When I feel the need to exfoliate, I go for LUSH's Ocean Salt face and body scrub, which uses natural ingredients like salt, lime and vodka to buff away dry skin.
Whatever it is about this pared back routine revolving around cleansing with Cetaphil has kept my skin blemish free for months – no painful extractions or chemicals needed.