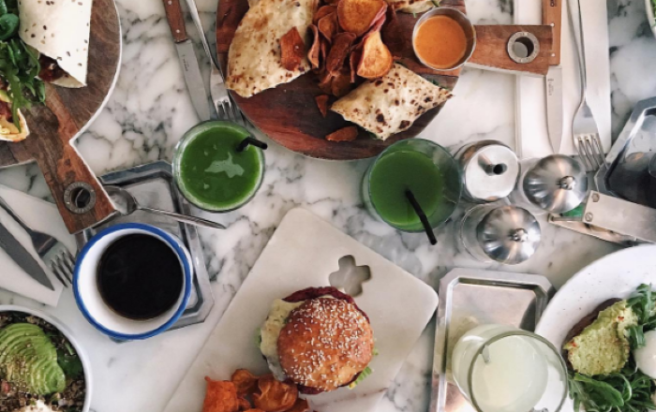 Sometimes when you're hungover, the only cure is brunch.
These brunch spots are some of our faves, and if you can't drag yourself out of bed due to the state that you're in, then prepare to drool over their divine dishes.
6. Biteclub Streetfood Discotheque, Galway
Biteclub is one of Galway's trendiest eateries, and opens up for brunch at 11.30am on weekends.
We recommend the fish tacos, teamed with a watermelon and gin slushie. Pure perfection.
5. Herbstreet, Dublin
Herbstreet has an extensive and delightful menu, which is why it's such a popular place for brunch-goers.
From Belgian waffles to a full Irish, there are plenty of gourmet foods in generous portions at this joint.
4. Bang Bang Cafe, Dublin
Bang Bang Cafe, another D7 delicatessen, is pretty well known for their brunch burgers.
The eclectic decor and unreal tunes are just two more reasons to hit up this edgy eatery.
3. Whitefriars Grill, Dublin
Whitefriars Grill serves up an amazing range of indulgent egg dishes, and if you can face a cocktail this morning, this is the place to be.
Seeing as it's handily located on Aungier Street, it's never a bad idea to pop into Aungier Danger afterwards for a few dozen doughnuts.
2. Caprice Cafe, Galway
Caprice is one of Galway's newest eateries, but it has already established an amazing reputation.
If you're heading to brunch, you can opt for a healthy, hearty helping of organic porridge or homemade granola and Greek yoghurt, or you can live dangerously and soak up the hangover with the buttermilk chicken burger or fish finger sandwich.
It's definitely a must-see if you're in Galway city.
1. Two Boys Brew, Dublin
This divine little place in Phibsborough does some of the best coffee in Dublin, and the menus subtle twists on classic brunch foods are to die for.
Two Boys Brew does an all day brunch, so even if you're not quite ready to drag yourself out of bed, brunch is served until 4pm .
We totally recommend the Brew Boys Benedict and the blueberry and ricotta hotcake.
Feature image: Amélie Bellemin-Comte